Citizen Of Nowhere Series 3
Daliso Chaponda's Radio 4 show to return for Series 3
Daliso Chaponda is writing a third series of his Radio 4 show Citizen Of Nowhere
Touching on coronavirus, the series "is very much about hope in the face of hopeless situations"
The stand-up comedian is also writing his first children's novel, Page Divers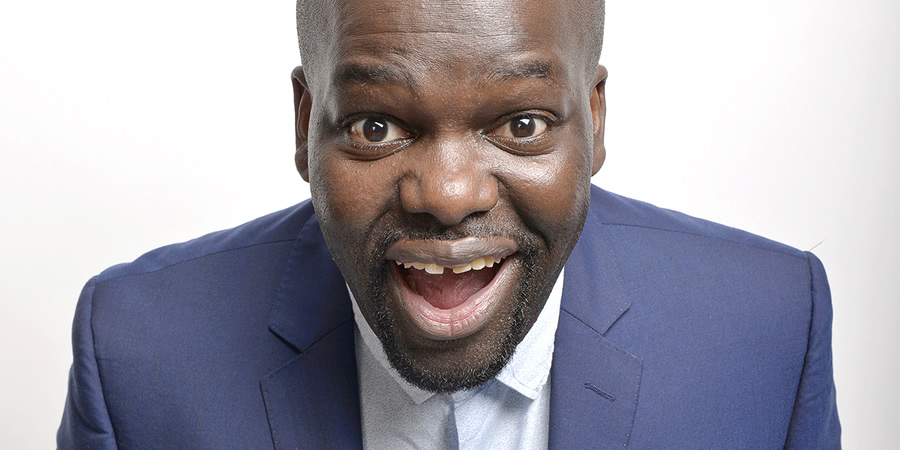 Daliso Chaponda's Citizen Of Nowhere is to return for a third series on Radio 4, addressing the coronavirus crisis.
And the Malawian comic is also writing his first children's novel.
Set to record next summer, the latest episodes of the radio series will be about "hope" Chaponda has said.
"Because it has mostly been written so far during Covid, it is very much about hope in the face of hopeless situations", the former Britain's Got Talent finalist told an online audience at The University of Wolverhampton, in a talk titled "Joking about Race, Politics and Your Lovelife without Offending People".
"It's very much like not giving in to despair, ways of coping" he said. "Each episode has a theme and there's going to be an episode of blame. There was a lot of worrying, blaming different groups for Covid. So there's an episode on blame and forgiveness and then other episodes with how you cope with despair."
Citizen Of Nowhere's initial four-episode series aired in 2018, following Chaponda's BGT success the year before. It was followed by a second series in 2019.
"So the first series of Citizen Of Nowhere was very much concerned with history and immigration" he recalled. "It was mainly about colonialism, slavery and then it was also talking about things like immigration and interaction between different societies. That was what was really on my mind back then.
"Then the next series was very much about, interestingly, cancel culture and about what's appropriate to say, what's not appropriate to say,. That was probably what motivated me."
Chaponda, who is based in the UK, also disclosed that he'd been against casting James Quinn as the patrician voice of the Establishment in the series, and how that had shaped the writing.
"So when I initially wrote the show, I wanted to write a comedian in. Radio 4 insisted that they didn't know this comedian and I would have to use some actor who'd been on Coronation Street and Early Doors. So I was very resistant to it. So I vented all my frustration and turned him into a villainous, horrible human being.
"But then, he was so good that actually it became absolutely delightful and Radio 4 was right that I needed to work with an actor not a comedian, because he had a much bigger range of emotions available to him than a comedian could have portrayed. Then, what I did was I tried to imagine all of the complaints we were going to get. So any time I made a political point, I thought of what an angry right-wing person would say and I put that into the mouth of my sidekick - he's [actually] a very, very lovely fellow."
In August, Chaponda dedicated his slot on Radio 4's virtual Summer Comedy Festival to the theme of protest, in a show that also featured Russell Kane, Athena Kugblenu, Kate Lucas and Scott Bennett, while writing his first children's book.
The stand-up, who has long written literature in a variety of genres and published a collection of his work, And Then What Happened?, in 2015, revealed that Page Divers "should be finished by now.
"I am dodging a literary agent left and right. But hopefully it will be done in the next month and then sometime in 2021 it will appear."
He neglected to elaborate upon the plot, beyond it featuring an appreciation of books. And he argued that "children's literature is the most important literature, because the ways you are shaped when you are tiny are always in you.
"Even now when I'm writing characters, every now and then I'm writing a funny character in a short story and I'm like, this feels like he walked off the pages of a Roald Dahl story. So I definitely think your early influences are always there."
Citizen Of Nowhere is produced by Carl Cooper, who told British Comedy Guide that a short, socially distanced instalment of Mark Steel's In Town will also be returning to Radio 4 on 12th November.
The tenth series was recorded on Brighton beach and a tree stump in a field in Stratford-upon-Avon, with a third episode set to be recorded over Zoom, with an audience selected from towns the comic has previously visited.
More conventional episodes are set to follow next year, coronavirus restrictions permitting.
---
For updates, click the button below.
Share this page