The News Quiz 2020 hosts
New hosts revealed for The News Quiz
Nish Kumar will host Series 101 of The News Quiz, starting in January 2020
Angela Barnes will host the April series, and Andy Zaltzman is in the chair for the September series
The BBC says: "Each host will bring their own unique style to scrutinise the news agenda from all sides"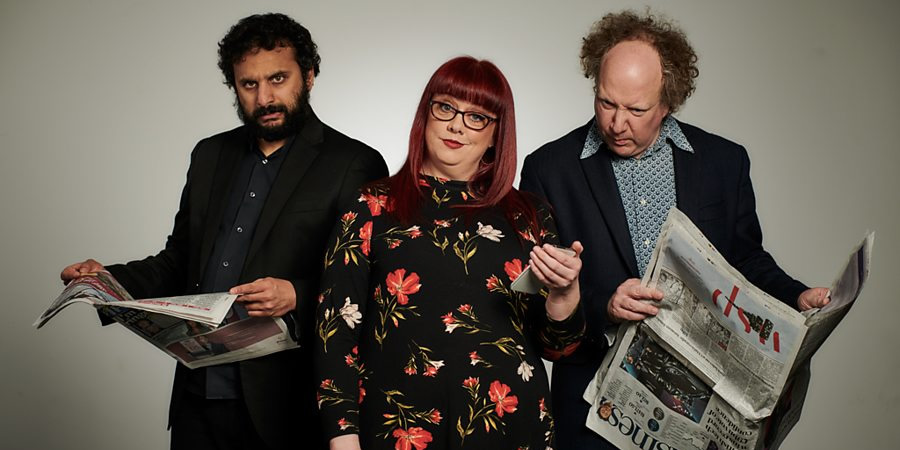 The News Quiz will return to Radio 4 in 2020 with three hosts: Nish Kumar, Angela Barnes and Andy Zaltzman. Each of the comedians will host a series in turn.
The popular panel show started in 1977 with Barry Norman as host. Barry Took, Simon Hoggart and Sandi Toksvig have since fronted the show. The format's most recent host, Miles Jupp, stepped down in May, with Series 100 - which was broadcast earlier this year - helped by guest hosts.
Kumar - who also hosts The Mash Report and previously worked on Newsjack - will chair Series 101, which starts in January. He says: "I'm delighted to be taking the reins at The News Quiz. I look forward to unpacking the country's continued descent into a Mad Max style dystopia/Britain's glorious rise from the ashes into a bold new tomorrow (delete as applicable). I look forward to sharing this honour with two of my dearest show business friends, Angela and Andy."
Angela Barnes, who has been a regular panellist on the show and is also a former Newsjack host and guest hosted an episode in the last series, will take over for Series 102, due in April. She says: "To say that I'm chuffed to be asked to be one of the new chairs of The News Quiz on Radio 4 is an obscene understatement, it's literally the job of my dreams, though I'm hoping that when I do it for real the audience and I will remain fully clothed. It's such an exciting and daunting prospect to follow in the substantial footsteps of Took, Hoggart, Toksvig, Jupp et al, so I'm delighted that I'll be doing it alongside Nish and Andy and I hope between us we can guide the listeners through whatever nonsense 2020 throws our way, while introducing exciting new voices and some of the best hair in topical comedy."
Andy Zaltzman, who first featured on the panel show in 2006 and was one of the guest hosts on the last series, will be in charge for the September run, Series 103. He says: "It is a great honour to be entrusted with holding all news to account along with Angela and Nish. Over the course of the year, I hope we will be able to quiz the news so hard that it grows up and starts behaving its age. There has been more news than average over the last 100 to 120 years, so, assuming that trend continues, we should hopefully have plenty of news to address."
The BBC says: "Each host will bring their own unique style to scrutinise the news agenda from all sides, joined by panellists with views from across the political spectrum."
Commissioner Sioned Wiliam says: "I'm really excited to have three incredible comedians hosting The News Quiz, each with their own unique sharp, satirical style. It's been wonderful to have Angela, Nish and Andy on Radio 4 over the years and I'm delighted they're now joining one of our flagship programmes which attracts millions of listeners on-air as well as to the chart topping podcast."
The News Quiz will return to Radio 4 on 10th January 2020. A 'Best of 2019' episode will be broadcast on the 3rd January.
---
For updates, click the buttons below.
Share this page