Mark Watson's live Radio 4 show given full series
Mark Watson's live Radio 4 show given full series
---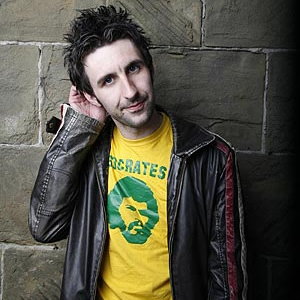 Radio 4 has ordered six more episode of Mark Watson's Live Address To The Nation, the new comedy format in which Mark Watson, Tim Key and Tom Basden broadcast live on the radio.
The show was piloted as a one-off on Radio 4 in February and, following the success of this broadcast, Radio 4 bosses have now asked for six more episodes.
Mark Watson's Live Address To The Nation involves comedian Mark Watson delivering monologues which have the aim of 'improving humankind'. Throughout the show, Watson is 'assisted' by Tim Key and Tom Basden, who interrupt to provide related poems, songs and thoughts. The format is essentially the same as the 2008 radio series, Mark Watson Makes The World Substantially Better, but the live broadcast allows for added unpredictability, plus interaction with the audience at home.
The pilot episode was the first live comedy show broadcast on Radio 4 for a number of years. Things went relatively smoothly, although the cast did had to rip out a number of pages of script due to timing issues, and were un-able to keep on top of the Twitter messages being sent in - but this wasn't seen as a problem, as this became part of the humour.
Writing on his blog, Watson said: "There will be six more shows of frantic generalisations, jingles, banter, running-out-of-time, jokes that I manage to finish and jokes I have to skip to the end of."
It is not yet known when the new series of Mark Watson's Live Address To The Nation will be produced. Watson says: "We don't quite know yet when these fabled performances will take place. The problem is the poor availability of Basden and Key, who are constantly busy doing a million and four things including experimental poetic comedy and film-making in China. It could well not be until October/November/December that we are all together in one room and that room is a recording studio."
Share this page