BBC radio presenters try stand-up for Comic Relief
BBC radio presenters try stand-up for Comic Relief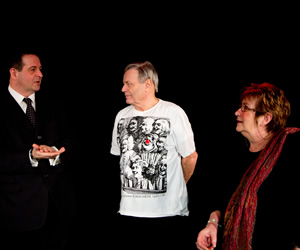 Six radio presenters will try performing stand-up comedy for the first time, as part of the BBC's Comic Relief programming.
The presenters signed up to take part are Radio 1's Dev, Tony Blackburn from Radio 2, Tom Service from Radio 3, Jenni Murray from Radio 4, 5 Live's Tony Livesey and Shaun Keaveny from the digital radio station 6 Music.
The BBC says Stand Up For Comic Relief will see "the fearless sextet compete in a test of wit, bravery and sheer silliness by trying their hand at stand-up comedy, in front of a live audience, in order to win the votes of the listeners at home and most importantly raise lots of money for Comic Relief."
The presenters met together last week at The Comedy Store in London, where they were given a comedy masterclass by Radio 4's Mark Thomas (pictured). Over the next two weeks each of the fledgling comics will be mentored by a different professional comedian, who will help them develop and perfect a three-minute stand-up routine, which will be broadcast on the radio.
Dev is to be mentored by Chris Ramsey; Tony Blackburn by Julian Clary; Tom Service by Sandi Toksvig; Jenni Murray by Mark Steel; Tony Livesey by Justin Moorhouse; and Shaun Keaveny by Miles Jupp.
The end result of this two-week intensive comic training will be a performance at The Comedy Store on Tuesday 22nd February 2011 (see our guide at the bottom for a link to tickets).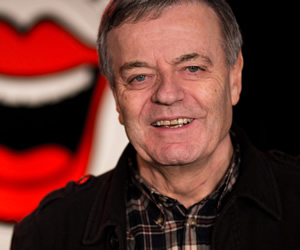 Listeners will be able to follow the presenters' preperations on Radio 4 on the 7th and 8th March, and the Comedy Store gig will be broadcast on the station on the 9th March. Following this final episode, listeners will have the chance to vote for their favourite act, and the results will be announced simultaneously across the BBC Radio networks on Red Nose Day, Friday 18th March.
Dev, Radio 1's Early Mornings presenter, says: "This is one of the most exciting and terrifying things I have ever agreed to do. My closest friends find me vaguely amusing so it will be interesting to see how my sense of humour will work in a room of strangers."
Tony Blackburn (pictured), the veteran DJ who now presents Pick of the Pops on Radio 2, says: "I'm a great admirer of stand-up comics but I've never wanted to be one. I have a reputation for corny gags but on radio it takes 10 seconds then I put a record on - I don't have to rely on getting a reaction. I'm petrified! Someone said to me 'It's another challenge' - I'm 68! I don't want another challenge but it's Red Nose Day!"
Tom Service, Radio 3's Music Matters presenter, adds: "How do I feel? Like just before I went on Oblivion for the first time at Alton Towers - queasy, discombobulated, overawed. All in all more than a wee bit funny."
Jenni Murray, Radio 4's Woman's Hour presenter, is quite simply "Terrified."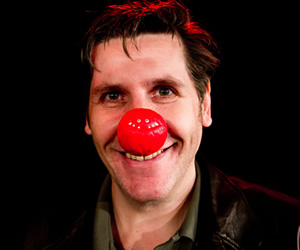 Meanwhile, Tony Livesey (pictured), who is sports station 5 Live's evening presenter, adds: "It won't be much of a relief for me, I'm terrified! I only know one joke and that is from the Chuckle Brothers. Still, my humiliation will be for a good cause."
Shaun Keaveny, 6 Music's breakfast show presenter, says: "I have been asked to provide a response to the news that I will be competing in a Red Nose Day laugh-off with radio colleagues from the other networks culminating in a live stand-up gig in two weeks. So as not to use the word terrified, here are some others: horrified, nauseous, cotton-mouthed, shuddering, woebegone, petrified, panic stricken..."
To find out more about Stand Up For Comic Relief see the link to our guide below.
In 2009, Radio 4 broadcast a series with a similar format. In Stand-Up With The Stars, Paul Merton, Milton Jones, Josie Long and Shappi Khorsandi coached a number of Radio 4 presenters who had never performed stand-up before. Peter White, the presenter of In Touch, was named the winner of the public vote.
Share this page