Ability Series 2
Lost Voice Guy's Radio 4 sitcom Ability to return for Series 2
Ability, the Radio 4 sitcom starring Lee Ridley, is to return for a second series
Ridley - also known as Lost Voice Guy - won Britain's Got Talent on Sunday
The semi-autobiographical show follows Matt, a character who can only talk with the help of a speech app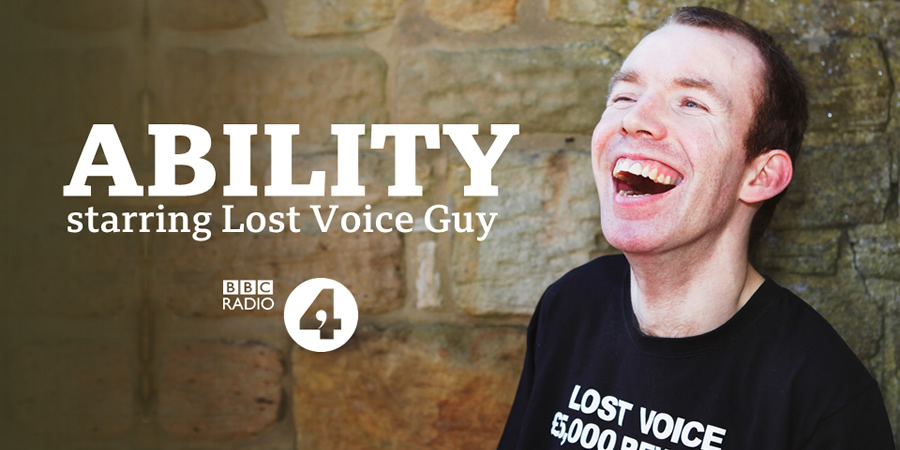 Ability, the semi-autobiographical Radio 4 sitcom starring Lee Ridley - also known as Lost Voice Guy - is to return for a second series.
Ridley, who won the BBC New Comedy Award competition for new acts in 2014, triumphed in the Britain's Got Talent final on Sunday, winning the talent contest.
The recommission of his sitcom follows the recent success of the first series, which aired on Radio 4 in May.
Co-written by Lee Ridley and Katherine Jakeways, Ability is a sitcom about 25-year-old Matt, who, like Ridley, has cerebral palsy and can only speak using an app on his tablet computer. The first series saw Matt moving into a flat-share with his best mate Jess and meeting his new carer Bob, played by People Just Do Nothing star Allan Mustafa.
Lee Ridley says: "I'm delighted to get the opportunity to write another series of Ability. I really enjoyed writing the first series, and it was a joy to have Katherine Jakeways as a writing partner. The process of writing and recording the show was fun from start to finish. I'm glad we'll be hearing more from Matt, Bob and Jess!"
Producer Jane Berthoud adds: "It's been brilliant seeing Lee's well-deserved success over the last few weeks, though it's not surprising how much he has touched people's hearts; everyone who heard the first series of Ability will know just how funny, clever, self-deprecating and, at times, poignant Lee's comedy can be. I'm looking forward to working with Lee and Katherine again on the next series."
Sioned Wiliam, Commissioning Editor for Comedy for Radio 4, comments: "I'm delighted to commission a second series of Ability. Lee and Katherine have written a sharp and funny sitcom about friendship and family. It offers up new perspectives on disability but is also a corking good comedy about flat-sharing 20-somethings."
Share this page