50 years of Just A Minute chat
Paul Merton to interview Nicholas Parsons for Just A Minute special
Nicholas Parsons is to be interviewed by Paul Merton as part of the celebrations of 50 years of Just A Minute
Nicholas Parsons in Conversation with Paul Merton will be recorded in front of an audience in November
Parsons has never missed an episode of Just A Minute, which started on BBC Radio in December 1967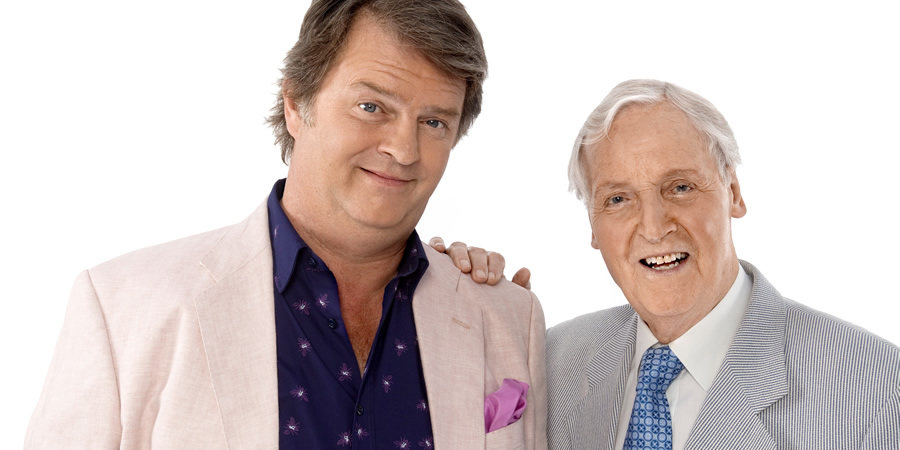 Just A Minute host Nicholas Parsons is to be interviewed by Paul Merton for a special Radio 4 show linked to 50 years of the panel show.
The BBC says of the forthcoming special: "As part of the special programming celebrating 50 years of Just A Minute, Paul Merton talks to Nicholas Parsons about his life, and his 50 years of hosting Radio 4's beloved panel show, with guest appearances from some of the regulars who have appeared over the years."
The interview - titled Nicholas Parsons in Conversation with Paul Merton - will be recorded in front of a live audience at the BBC Radio Theatre in London on Saturday 25th November (Tickets).
Just A Minute - the parlour game in which guests must talk for 60 seconds "without hesitation, repetition or deviation" - was first broadcast on BBC Radio on the 22nd December 1967. The idea for the game came to producer Ian Messiter as he rode on a bus, recalling his history teacher, who had caught him daydreaming and told him to repeat everything back to him without hesitation or repetition.
The chairman for the pilot episode of Just A Minute was planned to be Jimmy Edwards but he was unavailable, resulting in Nicholas Parsons, who was originally supposed to be a panel member on the episode, stepping into the host's chair.
Parsons has been involved in every episode of the show since, including its three forays on to television. Meanwhile Paul Merton first appeared on the programme in 1989, and has been a regular panellist on the show for many years now.
The BBC, talking about the recording, explains: "Nicholas first took the Just A Minute Chair in 1967, and has never missed an episode in more than 893 outings on radio and television. Come along and share some of the anecdotes he has built up over a lifetime working in comedy."
Radio 4 is expected to celebrate the long-running panel show in a number of ways in December, with the broadcast of this interview being one of the events.
---
For updates, click the button below.
Share this page