Heidi Regan: New Comedy Award
Heidi Regan wins BBC New Comedy Award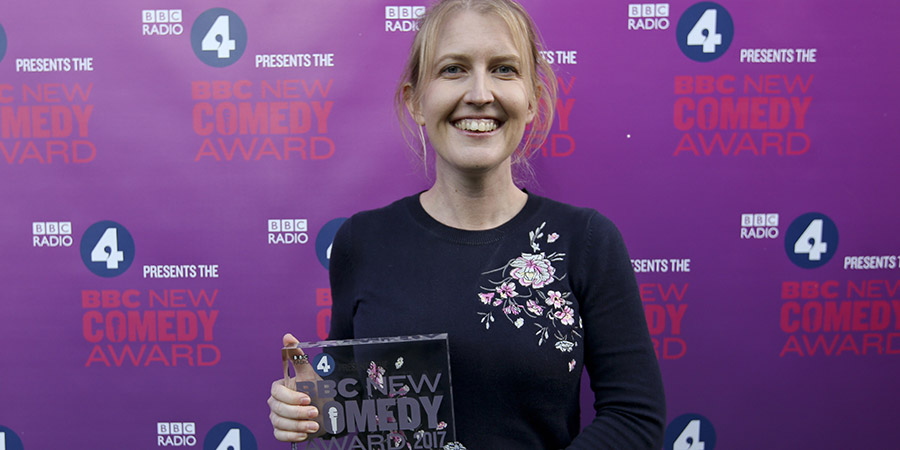 Australian native Heidi Regan has been named BBC New Comedy Award winner for 2017.
Heidi has been living in the UK for nine years and currently resides in London. After completing a degree in communications, the aspiring writer took up a number of jobs - such as media monitoring and, most recently, as a receptionist at an animation company - allowing her to focus on writing in the evenings.
Regan said this evening: "I feel completely blown away to have won, especially against such great competitors. It's just amazing - a dream come true."
She has previously won So You Think You're Funny? in 2016, and in 2010 picked up an Australian Writers Guild award for Best Unproduced Feature Film Script, for a comedy about a killer shark. She describes her comedy style as "slightly surreal and silly".
Broadcast live on Radio 4 from the BBC's iconic tent at the Edinburgh Festival Fringe, six competitors performed in the final, in the hopes of winning the top prize. Comedian Mark Watson hosted the show, with a judging panel comprising of Hugh Dennis and Jenny Eclair, and Radio 4's Commissioning Editor for Comedy Sioned Wiliam.
This year's other finalists were: Aaron Simmonds and Sikisa, both from London; Jacob Hawley from Stevenage; Andy Field from Crawley; and Morgan Rees from Merthyr Tydfil, now living in Bristol.
Whittled down over a series of regional and national heats broadcast since June, London-based Yumna Mohamed from Johannesburg in South Africa originally made the final, but had to withdraw at 48 hours' notice. She was replaced by wildcard Rees.
Sioned Wiliam, Commissioning Editor for Comedy for BBC Radio 4 and judge of the BBC New Comedy Award final, said: "All six finalists were dazzling. We agonised in the judging room and there was a huge amount of love for all of tonight's performers, but in the end one edged over the line, and this was because of her distinctive material and hugely confident performance."
Host Mark Watson added: "It was a high quality final and probably not an easy decision for the judges to make. I thought they went for the person with the most original material, and I was really pleased to see Heidi go through to the final and extra pleased to see her win. The standard overall was high and I think a number of the people we saw today have good prospects in comedy, so a good occasion all round!"
In addition to the much sought-after accolade, Heidi takes home £1,000 and a 15-minute script commission from BBC Studios. Heidi and her fellow finalists will also be mentored by the BBC Studios comedy team across the year and receive advice, guidance and the chance to write for and appear in slots across the BBC.
---
For updates, click the buttons below.
Share this page