Peter Kay and Johnnie Walker
Peter Kay to join Johnnie Walker for Radio 2 road trip special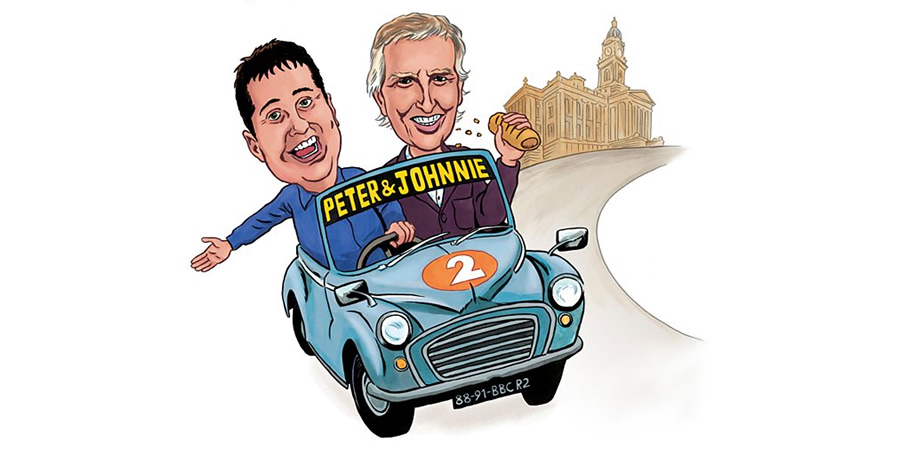 Peter Kay is to be the guest in a Radio 2 special.
This December, in a special two hour episode of interview show Johnnie Walker Meets..., the comedian will chat about his work and passions whilst on a road trip with presenter Johnnie Walker.
The BBC explains the duo will "get behind the wheel and take to the road for two hours of great conversation, laughs and music as they interview each other while taking in the sights of Peter's home towns of Bolton and Manchester."
The interview is a result of Kay striking up a conversation with Walker, as he is a fan of his Sunday afternoon show Sounds Of The 70s. The stand-up star explains: "I wrote to Johnnie because I've always listened to him - all my life. I love Sounds Of The 70s and I just feel that if you like somebody, you should let them know, so I wrote to him and then we had a phone chat. Johnnie said 'why don't we do an interview?' and suggested we could maybe record it in an actual car on the move, in a similar style to Car Share?"
Kay adds: "I thought that'd be a great idea brilliant, just a nice drive, a nice chat. I agreed on the proviso that it wouldn't just be an interview about me. That Johnnie talked too, he's an interesting man with some fascinating stories."
Walker comments: "Peter contacted me saying that he was a fan of the show - which was lovely to hear as I'm such a huge fan of his. You can tell he loves radio from the radio station Forever FM that he created for BBC One's Car Share. The station was a big part of the show. We got chatting about my Sounds Of The 70 show and music in general, and I came up with the idea of doing a special two hour show driving around Bolton whilst having a chat and playing lots of our favourite records. We had a lot of fun on the drive, as you can hear from all the laughter."
The Beatles, Marvin Gaye, The Drifters, Mike & The Mechanics, Simon & Garfunkel and Van Morrison are amongst the music that the duo selected to play.
Johnnie Walker Meets... Peter Kay will be broadcast on Radio 2 on Friday 30th December at 5pm. The episode has already been recorded, and the BBC have released a Preview Clip
Car Share will return to BBC One for four new episodes in 2017. Details
Share this page