Don't Make Me Laugh axed
Radio 4 axes David Baddiel's Don't Make Me Laugh
Radio 4 has cancelled Don't Make Me Laugh after two series
The panel show, created by David Baddiel, involved comedians trying to avoid saying funny things
An episode from April was ruled to be in "serious breach" of editorial guidelines due to jokes about the Queen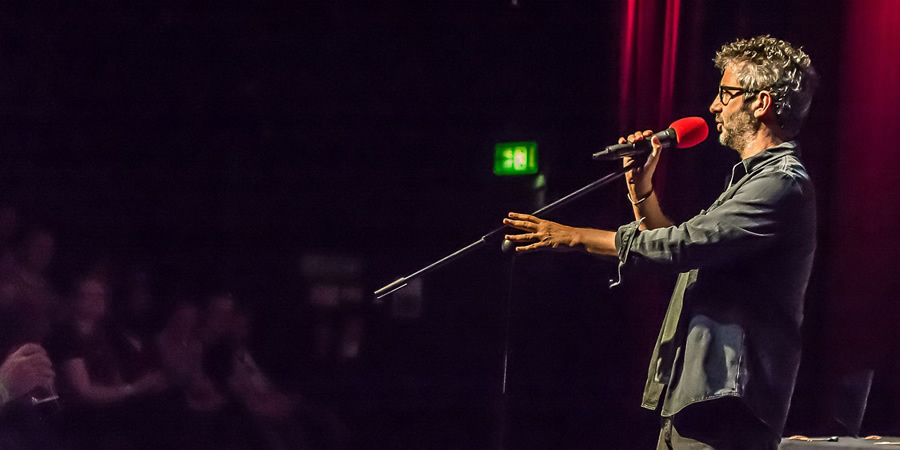 Radio 4 has cancelled Don't Make Me Laugh, the Radio 4 format created and hosted by David Baddiel.
The panel show, which launched in 2014, asked comedians to "do the one thing they hate above all else" - not tell jokes. The guest comedians faced the challenge of going up to the microphone in front of the live audience and trying to say things without making them laugh.
Series 2 of the show was broadcast in April and May, however the BBC says that it now won't return.
A spokesperson commented: "We're lucky to receive hundreds of great ideas from brilliant comedians who want to work with Radio 4, and we always bring a mix of returning shows to our audiences whilst also finding space for new programmes in our packed schedule. This means not all shows get recommissioned as otherwise it would be impossible to try out fresh formats and ideas."
An episode of Don't Make Me Laugh broadcast in April generated over 100 complaints. Broadcast on the Queen's 90th birthday, it featured a round in which the comedians were asked to talk about the subject "The Queen must have had sex at least four times".
The host and the BBC apologised the next day, with the corporation saying: "While BBC Radio 4 comedy is a broad church and often pushes boundaries, we would like to apologise for this broadcast of Don't Make Me Laugh. We never intended for the scheduling of the programme to coincide with The Queen's birthday and are sorry for the offence caused by its timing and content."
The remainder of the series was moved out of the 6:30pm slot into the 11pm slot, and it's repeats on Radio 4 Extra cancelled. The BBC Trust later ruled that the complained about episode was in "serious breach" of editorial guidelines. In its 9 page report, the Trust concluded the output "included personal, intrusive and derogatory comments which had exceeded the expectations of the audience."
However, The Guardian says that the decision to end the programme is not linked to this controversy. The paper says: "It is understood that the BBC's decision to drop the series was not based on the BBC Trust ruling on the episode featuring the Queen joke."
Writing on Twitter today, David Baddiel said: "I'm hoping maybe to pitch it again once we get past the 1960s. Oh no wait a minute, it's 2016."
Share this page