Angela Barnes gets Radio 4 stand-up series
Angela Barnes gets Radio 4 stand-up series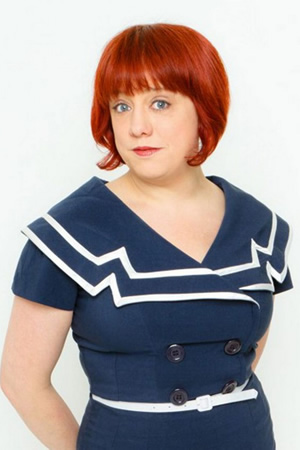 Angela Barnes, the stand-up comedian who won the BBC New Comedy Award in 2011, has been given her own Radio 4 series.
Angela Barnes: You Can't Take It With You, which will be broadcast on Radio 4 in 2016, will be based on the comedian's critically acclaimed debut Edinburgh Fringe show, which she performed in 2014.
The four-part series will see Barnes share "the big stuff she's thinking about: life, love, family, work and death."
The show is in part a tribute to the performer's late father, a man described as an "enormous character". A sex shop manager, naturist, and 'a big fan of caravans and pranks', Angela's father was a heavy influence on her and "taught her a 'carpe diem' approach to life."
The producers explain: "When her father died - very suddenly in 2008, and the reaction to which was the catalyst that drove Angela to pursue her career in comedy - Angela and her family proved him wrong and stuffed his coffin with sentimental keepsakes for his final journey.
"In this series, Angela does the very same thing and asks her loved ones to nominate objects that they would choose to send on with her as mementoes of their time together."
The objects nominated by her family will be put in a "suitcase full of memories" and "act as prompts for the episodes of warm and captivating stand-up."
Angela Barnes says: "I'm dead chuffed to have a series on Radio 4. I've been a BBC Radio 4 comedy geek for as long as I can remember so it means so much that they've let me have a go."
The show is being made by Impatient Productions, the relatively new radio production company set up by producer Lianne Coop and comedian Mark Watson. The company is also currently working on another series of Mark Watson Talks A Bit About Life and new shows Ria Lina's School Of Riason and Kate Fox: The Price of Happiness.
Angela Barnes: You Can't Take It With You will be recorded in front of a live audience, with free tickets released later this year. It will be broadcast on Radio 4 in Spring 2016.
Angela Barnes returns to the Edinburgh Fringe this year with a show called Angela Barnes: Come As You Are, which is themed around the topic of 'embracing who you are'.
Share this page