Josh Widdicombe and Georgie Thompson to host Fighting Talk
Josh Widdicombe and Georgie Thompson to host Fighting Talk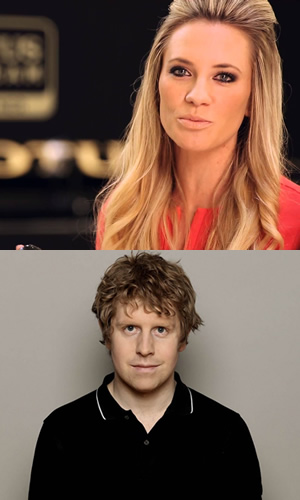 BBC Radio 5 Live have announced Josh Widdicombe and Georgie Thompson will be the new hosts of Fighting Talk, its popular sports-based panel show.
Broadcast in the Saturday 11am slot, the hour long comedy show involves guests debating the biggest sporting issues of the week. The winner is the pundit who can manage to get on top of the issues and - in one round - 'defend the indefensible'.
The show, which has been running since 2003, was originally hosted by Johnny Vaughan. Subsequent hosts have included Christian O'Connell and Colin Murray. The most recent series, which has just finished, was hosted by O'Connell, Matt Johnson and Jonathan Pearce on a rotating basis.
Today's news marks a major shakeup for the show, and the format's first female host. Georgie Thompson, who has previously hosted Sky Sports News and Sky's Formula 1 coverage, will be familiar to comedy fans as she was a regular on sports panel show A League Of Their Own for four series.
Stand-up comedian Josh Widdicombe, who is also a regular on Channel 4's The Last Leg, is well-known for being a sports fan and, prior to working in comedy, was a writer for the Guardian's sport section. He has also appeared as a guest on Fighting Talk on a number of occasions in the past.
The BBC says: "5 live is delighted to announce two new presenters as the hosts of Saturday's hugely popular points for punditry show, Fighting Talk. Georgie Thompson joins the team, bringing with her vast experience as a top sports broadcaster across the world, and former Guardian sportswriter and one of the country's best loved stand-up comics, Josh Widdicombe, will be bringing a smile to Saturday mornings."
Georgie Thompson says: "Anything with 'talk' in the title thrills me. The idea of pairing 'talk' with sporting opinion and working with such an experienced and fun team in the Fighting Talk family at Radio 5 live is very exciting."
Josh Widdicombe comments: "I am delighted to be joining 5 live and getting the chance to host a radio show I have been listening to for almost a decade. I won't let my record of never winning an episode of Fighting Talk cloud my judgement now I am in charge."
Today's news is part of wider changes at the station. Victoria Derbyshire, Shelagh Fogarty and Richard Bacon are leaving the station, whilst Adrian Chiles and Peter Allen are amongst those set to present new shows.
BBC Radio 5 live controller Jonathan Wall says: "This Autumn feels the right time to refresh parts of our schedule as we follow-on from what's already proving to be a wonderful sporting summer. We have a great blend of established presenters and new signings to take 5 live forward in our home in Salford. It's an exciting and creative team that I know will drive the station on to even greater heights."
The Fighting Talk format is currently on a summer break whilst the station covers events including the World Cup.
Widdicombe will shortly make his acting debut in the self-penned new BBC Three flatshare sitcom pilot Josh.
Share this page