Sketch groups for Radio 4's Sketchorama Series 3 revealed
Sketch groups for Radio 4's Sketchorama Series 3 revealed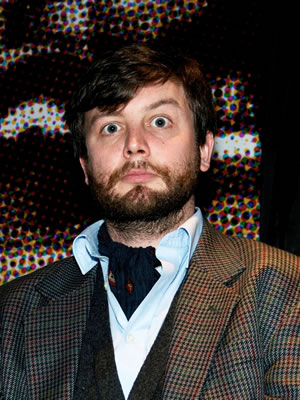 The BBC has announced the acts that will take part in the next series of Sketchorama, the Radio 4 format which showcases comedy groups.
It can now be revealed that Series 3 of the show will involve The Real MacGuffins, Mixed Doubles, Bob & Jim, Four Screws Loose, The Jest, Birthday Girls, Casual Violence, Croft & Pearce, Beasts, The Colour Ham, Lead Pencil and Foil, Arms & Hog.
The new four part series will premiere on Radio 4 Extra in June, and then be broadcast on Radio 4 from the end of July.
Produced by The Comedy Unit, Sketchorama will once again be hosted by Thom Tuck (pictured). The BBC says: "The brilliant Thom Tuck takes up the hosting reins once more after gaining critical praise for his role last year, and there are 12 new and exciting acts taking part in the show with recordings happening in London and Scotland."
Tickets are still available for the London shows on the 28th and 29th May. To apply to be in the audience see our free tickets page
Radio 4 commissioner Caroline Raphael says: "We are delighted to host Sketchorama for a third series. Live sketch comedy is booming and here we have the pick of the current groups. For some it is their first experience of radio and as such is proving a fruitful testing ground with some previous acts now working on their own shows for the network."

Sketchorama was set up by producer Gus Beattie after he noticed there was lots of shows giving stand-up comedians a chance to demonstrate what they could do, but very few vehicles for sketch talent. Talking about the new series, Beattie says "It's a cracking line up again. I'm looking forward to it!"
Below are the official biographies of the groups taking part:
The Real MacGuffins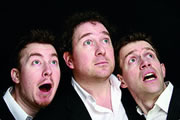 The Real MacGuffins are a London based sketch comedy group. Formed in 2008 they are: Dan March, Jim Millard and Matt Sheahan.
The Real MacGuffins have established themselves as one of the top sketch groups on the circuit and have performed their unique brand of sketch comedy across the UK as well as supporting comedians including Stewart Lee, Dave Gorman and Perrier Award winners Tim Vine, Phil Nichol, Adam Riches and Doctor Brown.
The group have proved a crowd favourite at the Edinburgh Fringe Festival throughout 2010, 2011 and 2013 playing sell-out shows to critical acclaim. Their highly energetic, interactive comedy delights audiences both young and old, with a mix of wordplay, good (and some bad) old fashioned jokes and physical comedy there is something for everyone.

Mixed Doubles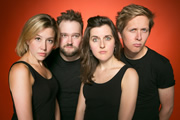 Mixed Doubles are Rose Robinson, Paul Aitchison, Megan Smith and Will Close and were formed in 2012 after meeting at Mountview Academy of Theatre Arts, and decided to postpone unemployment through the means of sketch comedy.
Their debut performances were at the Henley Fringe Festival in July 2012 and after a successful opening stint, London shows became an increasing regularity in the build-up to their rampant first appearance at the Edinburgh Fringe in 2013.

Despite their relatively recent emergence onto the circuit, they haven't been short of accolades after scooping both the 'People's Choice Award' for their viral Modern Conversation at the Dave Comedy Festival in 2013 and being named Finalists in Foster's So You Think That's Funny? - Best New Sketch Act of the same year. They have recently returned from a critically acclaimed run at the Adelaide Fringe in March 2014.

Bob & Jim
Bob and Jim have been performing together as Bob and Jim for many years. They have created three Edinburgh shows: Modern Urges (2011), GO (2012) and Two Stars (2013) and are Musical Comedy Awards Finalists (2014).

'This offbeat duo's updated take on vaudeville is a delight; I laughed like a loon!' (Fringe Guru). 'Laid-back and on-point' (Three Weeks) these 'old pros' (Steve Bennett, Chortle) deliver 'charming buffoonery that is impossible to resist' (The List). With their 'superb comic timing' (Funny Women) this 'hilarious duo' (Broadway Baby) dole out 'proper belly laughs and a real sense of fun' (British Comedy Guide). 'Watch out for these lads' (Kate Copstick, The Scotsman).

Four Screws Loose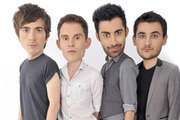 New Act of the Year finalists Four Screws Loose are Richard Caine, Joseph Elliot, Thom Ford and Conan House and are officially the tallest (and according to them "the sexiest") sketch comedy group on the circuit.

Having performed in prestigious comedy venues from London to Edinburgh (via - naturally - Yeovil) and alongside top acts such as Ardal O'Hanlon, Patrick Kielty, Alex Zane, Frisky & Mannish and Boy With Tape on his Face.

The Jest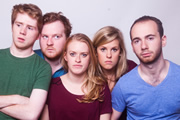 Recently slimmed down from nine-person sketch group Simply the Jest (who performed at the Fringe from 2011 to 2013). The Jest is made up of University of Exeter graduates Ella Ainsworth (School of Comedy on Channel 4 and at The Pleasance, the BBC's Hustle and Being Human), Tristan Rogers, Jack Stanley (Little Britain, 2005 film The Hitchhiker's Guide to the Galaxy), Luke Theobald (runner-up on an episode of Pointless. Hell yeah!) and Bryony Twydle.

'What particularly lifts these guys above the average is their willingness to presume intelligence in their audiences ... clever stuff' (The List).

Birthday Girls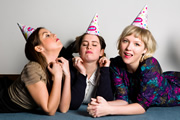 Birthday Girls are Beattie Edmondson, Rose Johnson and Camille Ucan. Collectively, individually and existentially they have been seen or heard on things like Live At The Electric (BBC3), Absolutely Fabulous, Dick & Dom's Funny Business (BBC2) and the first series of Sketchorama in their former sketch collective Lady Garden.

Casual Violence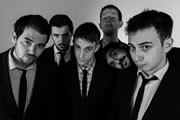 The comedy collective known as Casual Violence are Luke Booys, Greg Cranness, Dave Arrondelle, Alex Whyman, Ben Champion and writer James Hamilton. Their most recent show, House of Nostril, had sell out runs at the Soho Theatre and the Lowry in Salford Quays, following the show's success at the Edinburgh Fringe 2013.

They won a Three Weeks Editor's Choice Award in 2011 for their show Choose Death, and their writer/creative lead James Hamilton was nominated for the Malcolm Hardee Award for Comic Originality 2011 and 2012 for Choose Death and A Kick In The Teeth respectively.

Croft & Pearce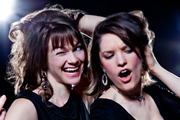 This funnier than it sounds female double act consists of Hannah Croft and Fiona Pearce and after meeting at school the girls made a radical bid to break free from a quiet, cerebral existence in the Home Counties, both went to study at Oxford University.
Desperate to be chatted up by men from mainland Europe, Hannah studied French and Italian. Desperate not to be, Fiona studied English. Eager to unleash her inner child, Fiona went on to train on the three year acting course at Central School of Speech and Drama. Eager to be like Fiona, Hannah also studied acting for three years, at The Guildhall School of Music and Drama. Since then they have enjoyed three successful runs at the Edinburgh Fringe. **** "This talented duo are engrossing, well observed and frequently head-flingingly funny", ThreeWeeks.

Beasts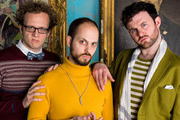 Three refined gentlemen of comedy. Part-time heroes, full-time handsome. Beasts are Owen Roberts, James McNicholas and Ciarán Dowd. After a sell-out second Edinburgh show last year, these monstrously funny sketchmen are all set for a storming 2014. "Hilariously funny... Could this entertaining trio go all the way? This critic thinks so." Alison Thompson, The Sunday Times

The Colour Ham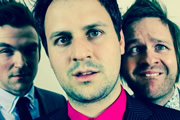 The Colour Ham is a brand new and exciting comedy project based in Edinburgh. Written by and starring Colin Cloud, Kevin McMahon and Gavin Oattes, it's where comedy, magic and mindreading come together in a big ball of rock 'n' roll silliness.
'Ingenious' (Scotsman). 'They take magic, comedy and mentalism, destroy it and rearrange it in a way that just hasn't been done yet. Comedy is the new rock and roll folks and this band are on the verge of something great' **** (Skinny Magazine). 'One of the highlights of the Fringe 2013' ***** (ThreeWeeks). The Colour Ham will rock your socks off and you won't even have to take off your shoes.

Lead Pencil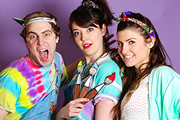 Formed in 2012, Lead Pencil are a stylish comedy group that gives you observational sketches with a colourful twist, featuring Maddie Rice, Louise Beresford and Dave Biddy. Imagine the lovechild of Saved by the Bell and Art Attack. That's Lead Pencil and they've made a sketch show by literally sketching it!

Foil, Arms & Hog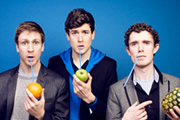 Fringe favourites Foil, Arms & Hog are Sean Finegan (Foil), Conor McKenna (Arms) and Sean Flanagan (Hog). Ireland's top comedy trio have sold out the Edinburgh Fringe for five consecutive years and recently completed a world tour of festivals including Chicago, San Francisco and Adelaide, where they won a Fringe Comedy Award.
Their unique style of 'fast-paced improv-infused sketches' (SquirrelComedy.com) developed on the stand-up circuit has won them wide audience and critical acclaim. 'An effervescent hour of fast-paced gags, fizzing with energy, invention and great lines' (Chortle.co.uk).
Share this page