New Hitchhiker's Guide To The Galaxy radio recording
New Hitchhiker's Guide To The Galaxy radio recording
The BBC is organising a new recording of The Hitchhiker's Guide To The Galaxy.
The original radio cast are being assembled to perform a special show from the BBC Radio Theatre in London on the 29th March.
The episode will go out live on Radio 4 at 10:15am on Saturday 29th. The new recording has been commissioned as part of the station's Character Invasion day. The aim of the programming strand is to "explore what it takes to create a character - from how you bring them to life to how you let them go."
The new Hitchhiker's Guide To The Galaxy recording will focus on some of the original plotlines of the hit sci-fi comedy. The BBC says: "The two-headed smooth-talking alien Zaphod Beeblebrox, bemused Earthling Arthur Dent, and Marvin the Paranoid Android will relive some of their adventures."
The episode has been adapted by Dirk Maggs, who has worked on many of the BBC's previous Hitchhiker's Guide projects. Philip Pope will be the Musical Director, with David Morley acting as producer.
Simon Jones will resume his role as Arthur Dent in the new episode, with Mark Wing-Davey playing Zaphod Beeblebrox, Stephen Moore as Marvin the Paranoid Android, Sue Sheridan as Trillian, and Geoffrey McGivern as Ford Prefect.
The BBC explains: "Led by Simon Jones as Arthur Dent, they will be bringing to life the characters created for them by Douglas Adams in highlights from the entire Hitchhiker's saga. They are joined on stage by a Special Guest Voice Of The Book - Douglas's long-time collaborator and sometime flat mate, John Lloyd."
Radio 4's Gwyneth Williams, talking about the day of programming planned, says: "What makes some fictional characters stay with us all our lives? Why does it take fictional characters to reveal deeper human truths? And what really brings these characters to life? I am delighted to announce anarchy on Radio 4 for a day when some of our favourite characters from drama, literature and comedy will be dropping in and out of the schedule when you least expect it to explore and examine the nature of character."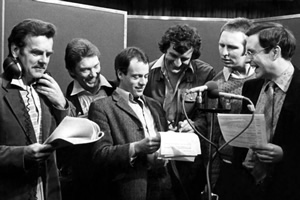 The Hitchhiker's Guide To The Galaxy was first broadcast on Radio 4 in 1978, before spinning off to create a series of novels, a TV series, a feature film, multiple stage shows, a collection of comic books, and merchandise including towels.
Character Invasion will also involve Dawn French giving an alternative Thought For The Day. Full Story
More information about Character Invasion can be found on the BBC website. Tickets to the live H2G2 recording are available from BBC Tickets
On Saturday 8th March the BBC will launch a new Hitchhiker's Guide To The Galaxy Game. The new online interactive quest has been created to mark the 30th anniversary edition of the first computer adventure based on the sci-fi series. Full Story
Share this page