Radio 4 sitcom Cabin Pressure to end
Radio 4 sitcom Cabin Pressure to end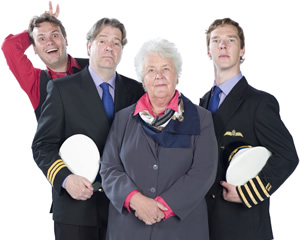 Cabin Pressure, Radio 4's hit sitcom set around a small airline business, is to end.
The comedy, which stars Benedict Cumberbatch, Roger Allam and Stephanie Cole, will finish with a final special in 2014.
Breaking the news on his blog, writer John Finnemore confirmed: "This is it officially: I am currently writing the next - and final - episode of Cabin Pressure. It will be a forty-five minute special, and it will be recorded early in the new year."
The sitcom, which launched on Radio 4 in 2008 to great reviews, follows the adventures of MJN Air, a tiny airline run by forbidding divorcee Carolyn Knapp-Shappey (Cole) who, aged 64, is finally free of her awful husband, but pleasingly not free of his private jet. She hires young uptight captain Martin (Cumberbatch) and sky veteran Douglas (Allam) to pilot the plane. The duo are 'assisted' by Carolyn's dim son Arthur (Finnemore), who acts as cabin crew.
The show has so far run for 25 episodes across four series and a Christmas special. Explaining why the comedy was ending, despite its popularity, Finnemore wrote: "That has always been the plan - at least since about Molokai [the 2010 Christmas special]. When I was planning series three, I decided that (BBC and cast permitting), I would write two more series, and build towards a cliff-hanger, followed by a special. I knew by then how important it is when writing an episode to have the ending in mind, and I thought the same would probably be true of a series."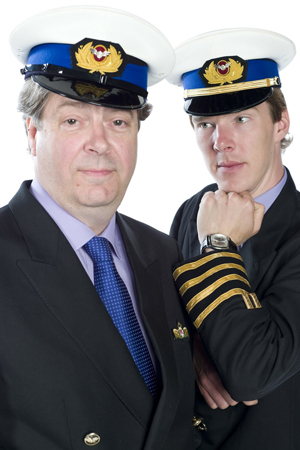 He further elaborates: "Well, it has to end somewhere, and six years and twenty six episodes feels like a pretty good score. And this way I get to build towards an ending that I feel is satisfying, rather than it simply stopping one day... or worse, getting tired and repetitive.
"It's also allowed me to let the characters and their relationships change and develop over the last couple of series, knowing that I'm building in a particular direction, in a way that I couldn't have done if I'd had to keep them in sitcom limbo."
Referring to the fact that each episode has been named after a location starting with a different letter, he adds: "Besides, you can't fight the alphabet...". The final special will be titled Zurich.
Pre-empting the question that the show was actually ending because the cast were becoming too busy to commit to the show, perhaps most notably Benedict Cumberbatch, who is now the star of Sherlock and various Hollywood movies, Finnemore says: "It really isn't. It's very difficult to get them all together, certainly, but they continue to be astonishingly generous about finding ways to make it work. No, this is all my fault."
A date for the recording has not yet been set, but it is expected to be announced early in the new year.
Fans have already started commenting on Finnemore's blog. One comment says: "One laughing and one crying eye. Somehow we all knew it, right?"; whilst another poster called Kate added: "This news actually makes my heart feel a little heavy, because I don't want to say goodbye to these beloved characters."
Below is an audio clip in which Carolyn tries to train Arthur. At the time of writing, many full episodes of Cabin Pressure are currently available on iPlayer
John Finnemore will talk about sitcom writing at the Big Comedy Conference on 30th November 2013. Details.
Share this page