Nicholas Parsons to write Just A Minute book
Nicholas Parsons to write Just A Minute book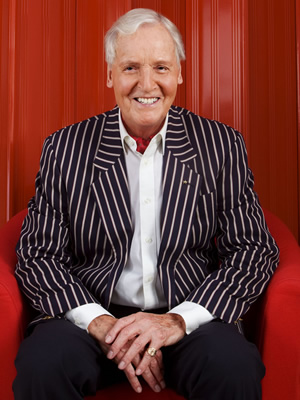 Nicholas Parsons (pictured) has signed a Just A Minute-linked book deal.
He will write Welcome to Just a Minute!, the first book to cover the long-running radio panel show in which guests are challenged to speak on topics without hesitation, repetition or deviation.
Parsons has hosted every edition of the Radio 4 panel show, more than 800 episodes, which was launched on the station in December 1967. The 89 year-old has also presented three TV transfers of the format, the most recent of which was on BBC Two early last year.
Publishers Canongate won an auction of rights to release the book, which will be published as an official BBC tie-in. The book is expected to be ready to launch at the Edinburgh Festival Fringe in August 2014.
Welcome to Just a Minute! will cover the history of the show and its panellists, with transcripts of its best moments and contributions from regular panellists.
Nicholas Parsons says: "While it is my responsibility as Chairman to guide the show, I consider it equally important to generate the fun we create in what is a truly unscripted and spontaneous programme, and it is an honour to be asked to bring the spirit of the show into book form."
Canongate's Jenny Lord, who will edit the book, adds: "I've been tuning in to Just A Minute for as long as I can remember. A British comedy institution, it is consistently brilliant and no surprise that after forty-five years, it is still our best-loved radio comedy."
The 67th series of the radio show is currently on Radio 4 on Monday nights at 6:30pm. As previously reported, Parsons is also set to host Junior Just A Minute, a new Radio 4 Extra spin-off. The episodes, which will feature Jenny Éclair, Josie Lawrence and child panellists, will be recorded later this month for broadcast as part of The 4 O'Clock Show.
Below is footage from an episode of Just A Minute recorded at the Edinburgh Fringe in 2011. It shows Jason Byrne, a newcomer to the format, struggling somewhat:
And below is a round on the topic of 'Bull in a China Shop' animated. Clement Freud, Paul Merton, Sir Tim Rice and Ross Noble are the panellists:
Share this page