Radio 4 Extra to launch Junior Just A Minute
Radio 4 Extra to launch Junior Just A Minute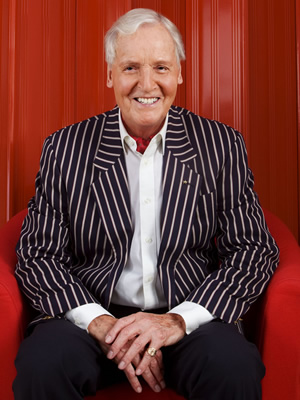 Nicholas Parsons (pictured) will host a new version of the long-running radio panel game Just A Minute featuring child contestants.
Junior Just A Minute will be broadcast as part of The 4 O'Clock Show, the family-orientated slot on Radio 4 Extra which is presented by Mel Giedroyc.
Just A Minute has run on Radio 4 since 1967, with Nicholas Parsons having taken part in every one of the 800+ episodes. The aim of the show is for panellists to talk humorously on any given subject for one minute without hesitation, repetition or deviation - a task that is harder to complete than it may first appear.
Unlike the long-established Radio 4 format where each guest plays solo, the junior version of the show will feature two teams. Each team will consist of an experienced Just A Minute panel member, who will be teamed up with a contestant aged between 10 and 13 years old. Josie Lawrence and Jenny Éclair will be the Team Captains.
Five episodes will be recorded in London later this year. The BBC says: "We're looking for young, enthusiastic fans of Just A Minute to take part in a junior version of the popular panel game", adding "If you're up for the challenge and think you can talk without hesitation, repetition or deviation, contact us for an application form today."
If you're aged 10 to 13 and wish to take part, firstly obtain permission from your parent or guardian, and then either you or an adult should email juniorjam@bbc.co.uk to find out more. Alternatively phone 0141 422 6804 or write to Junior Just a Minute, Zone 3.07, 40 Pacific Quay, Glasgow, G51 1DA.
Just A Minute returns for its 67th Series on August 12th 2013, and Nicholas Parsons is due to celebrate his 90th birthday later this year.
Below is the advert for Radio 4 Extra which was broadcast on TV in 2011, and features extracts from a game of Just A Minute:
And below is one of the Just A Minute rounds set to animation. It features Clement Freud, Paul Merton, Tim Rice and Ross Noble talking on the topic "Bull in a china shop".
This story was edited on the 22nd July to correct the recording location - it is London not Glasgow; and add details on the team captains.
Share this page