New Meaning Of Liff book and Radio 4 celebration announced
New Meaning Of Liff book and Radio 4 celebration announced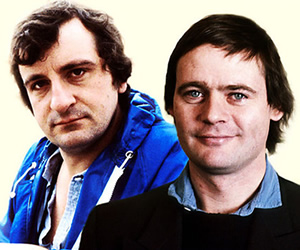 A Radio 4 show is to mark the 30th anniversary of the publication of The Meaning Of Liff, the hit 1983 book of 'made-up words' that was created by Douglas Adams and John Lloyd (pictured).
The Meaning Of Liff At 30, which will be broadcast on Radio 4 at the end of February, is now inviting the public to suggest definitions to go in a new edition of the comic dictionary.
First published in 1983, The Meaning Of Liff contains a list of definitions for things that previously had no word to describe them. All the words used are place-names from around the world. For example 'Peoria' is a described as 'the fear of peeling too few potatoes'.
The book was conceived when Douglas Adams was writing the first novel in The Hitchhiker's Guide To The Galaxy trilogy. The original Hitchhiker's radio series was also worked on by John Lloyd, and when holidaying in Corfu, the duo started coming up with comical definitions, based on an old school game.
According to the preface of the original 1983 book: "In life and, indeed, in liff, there are many hundreds of common experiences, feelings, situations and even objects which we all know and recognise, but for which no words exist. On the other hand, the world is littered with thousands of spare words which spend their time doing nothing but loafing about on signposts pointing on places. Our job, as we see it, is to get these words down off the signposts and into the mouths of babes and sucklings and so on, where they can start earning their keep in everyday conversation and make a more positive contribution to society."
A second book, The Deeper Meaning Of Liff, was released in 1990 with additional definitions. Adams passed away in 2001, but Lloyd, Adams's daughter Polly and Jon Canter are now working on Afterliff, which is expected to be published in August.
The Meaning Of Liff At 30, which will be broadcast on Radio 4 on 28th February, will be presented by John Lloyd. Radio 4 publicity describes the format of the show as follows: "John Lloyd talks to Stephen Fry and Matt Lucas about their love of Liff, and will also gather new entries from the Radio 4 audience. These will then be chewed over and sifted down by John and fellow judges Sanjeev Bhaskar and Terry Jones. John will also share the bizarre and wonderful story of how he and Douglas came to write The Meaning of Liff - much of it in Donna Summer's beach house."
You can submit an idea for a new Liff via the Radio 4 website. Suggestions are also being accepted by e-mail at liff@bbc.co.uk, or by post to Liff Ideas, Room 17, 3TPR, BBC Broadcasting House, Whiteladies Road, Bristol, BS8 2LR.
Entries must be received by 5pm on Friday 1st February 2013. Suggestions should all be based on place names and should not have already featured in the first two Liff books.
Existing definitions include the following:
- Ardslignish (adj.) "Descriptive of the behaviour of Sellotape when you are tired."
- Ferfer (n.) "One who is very excited that they've had a better idea than the one you've just suggested."
- Glinsk (n.) "A hat which politicians buy to go to Russia in."
- Sigglesthorne (n.) "Anything used in lieu of a toothpick."
- Woking (ptcpl. vb.) "Standing in the kitchen wondering what you came in here for."
A list of Liffs taken from the book can be found on this un-official fan website
Share this page