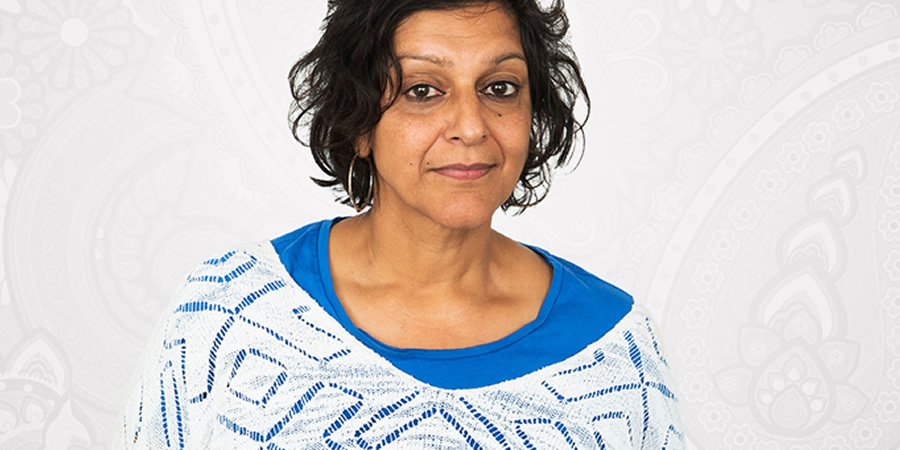 Genre

Sitcom

Broadcast

Channel

Episodes

Starring

Meera Syal, Justin Edwards, Hamza Jeetooa, Vincent Ebrahim, Amy Morgan, Rachel Atkins, John Sessions, Hilary Maclean and others

Writer

Director

Producer
Meera Syal stars as Mrs Sidhu, a caterer from Slough with a highly active imagination and her own Indian Aunty brand of crime solving, A.K.A. nosiness. She has made so many observations to the local police that they have file on her.
In the first series, Murder with Masala, she caters a wedding in rural Berkshire where the bridesmaid goes missing. She soon has a heap of clues that mean something to her, and nothing to anyone else. She drafts in long suffering Inspector Burton to confront gadget millionaire Lord Lucas and highly strung Lady Lucas. Meanwhile back in Slough, efficient new employee Lucy Lepinois unsettles her her eternally useless son Tez, and wily catering supplier Mr Varma becomes a thorn in her side as her concern for the missing Bridesmaid grows.
In the second series, Mrs Sidhu's Deadly Highland Game, The Indian Aunty from Slough gets mixed up in Highland homicide. Since her husband's death, she has built a successful reputation as a caterer in Slough, and has snagged a billionaire client at a Scottish shooting estate. But when she is threatened by a mysterious Russian, she drags in Inspector Burton.
Supported by hotshot trainee PC Williamson, they pry into the dark corners of Castle Tannoch, its eccentric laird and his gruff niece Jane. Meanwhile, handsome Gamekeeper Callum makes her heart skip a beat, while her wayward son Tez causes more of a heart attack with his incendiary distractions.
Production company

Also known as

Mrs Sidhu Investigates: Murder With Masala

Laugh track

None
Broadcast details
First broadcast

Wednesday 4th October 2017 on BBC Radio 4 at 11:30am

Last new broadcast

Friday 5th July 2019 on BBC Radio 4 at 11:30am

Length of episodes

30 minutes