"She's Big, She's Brash, She's Still Breathing and She's Here!". The character Lena Marsh - played by Rebecca Front - is coming to Radio 4 in Lena Marsh, Live And Shticking!. Writer Jeremy Front explains more...
Hi Jeremy. Tell us more about Lena Marsh...
Twenty odd years ago Rebecca and I first introduced Lena Marsh to the world in a BBC arts documentary which went out on April 1st. We wrote a CV and biography of Lena's life and career from Yiddish Theatre and Vaudeville right up the present and sent it to people who might have worked with her asking if they'd like to be interviewed about her. To our surprise they were all happy to improvise about 'The Broad of Broadway'.
Cleo Laine talked about Lena as a singer, Larry Adler riffed on Lena's early career, Michael Winner claimed to have directed her in 70s disaster movie, Elevator, and Jonathan Ross specialised in Lena's sci-fi B-movies including Attack of the Beavers. The more they talked the more Lena grew and we began to realise we had a larger than life character on our hands.
Is the character based on any one in real life?
Lena started out as an amalgam of Hollywood and Broadway stars, but as always happens, she soon became a character in her own right.
We wanted her to have a rich hinterland and a diverse career to draw from. As Rebecca inhabited the character and dropped into that ageing, rasping voice with its New York accent she became more and more vivid.
At the outset, we imagined that in MGM musicals Lena was never the glamorous one who ends up with the leading man. She was always 'the best friend with a head cold', the kooky, funny one with all the best come-back lines and quick-fire gags who is attracted to the leading man, but ends up with his crazy friend.
You've managed to get some bona fide stage stars involved in this new Radio 4 special...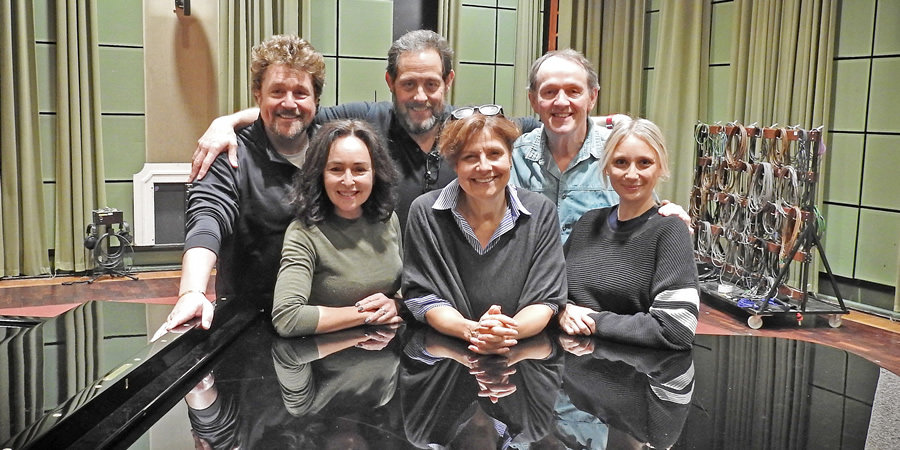 I have to thank BBC Comedy for the experience of having Michael Ball singing in my ear!
Lena Marsh, Live And Shticking! developed into an increasingly wild, frantic story and as it was scheduled for initial broadcast on Boxing Day I decided to turn it into a Christmas action adventure with lots of references to everyone's favourite festive film... Die Hard.
At the same time we wanted to keep Lena rooted in the real world, or at least, her real world. Lena's world is populated by stars. Once I decided that she was in the UK to record Christmas With Lena and Friends, our producer, Simon Nicholls set about casting her friends: Sharon D. Clarke, Kevin Whately and Michael Ball.
We were lucky to get a cast of comedy gold with Jason Forbes and Lewis Macleod who brought an incredible range of voices.
Jenny Bede, who plays the French daughter-in-law Delphine in Jack & Millie [Jeremy's Radio 4 sitcom], this time transformed into Aja. When I asked if she could do a 'Valley Girl' accent she asked if I wanted Welsh and was relieved that I meant Californian.
Samantha Spiro has become a regular in what Rebecca and I think of our rep. of actors we always want to work with whenever possible.
Is Lena Marsh in any way connected to Incredible Women, the Radio 4 series you and Rebecca make?
Although Lena Marsh isn't being billed as an Incredible Women Christmas Special, the play works along very similar lines in terms of format.
Of course, the original Lena programme from the mid-90s was actually the progenitor for what became the Incredible Women series.
As Incredible Women was conceived as a TV project, we're working on developing it for television with the first two scripts already written.
You've worked with your sister Rebecca on a large number of projects now. You must have a fairly close sibling bond?
It's funny because people often ask us what it's like working with a sibling, but we've done it for so long we take it for granted. It's only when people say, 'I couldn't work with my brother/sister' that we realise it's not that common.
I won't speak for Rebecca, but I'd say we've certainly got a close sibling bond and given the fact that we make each other laugh and enjoy working together, we clearly get on.
With parents who are respectively an artist and writer, we grew up in a creative household which included a love for comedy and as kids we would listen to recordings of Peter Sellers, Nichols & May, Peter Cook and Dudley Moore, Beyond the Fringe, Eleanor Bron, Alan Bennett, Jonathan Miller, Fortune & Bird, Woody Allen, Mel Brooks and Carl Reiner, Bob Newhart... As a consequence Rebecca and I share very similar tastes in comedy.
How do you write?
An awful lot gets written about the writing process as if there's a rule book and a set of blue prints for getting it right. Every writer has their own way of going about it and in the end the process is just that - a process. It's what gets you from scene one to the final full stop and if you end up with something that approximates what you wanted it to be, your process clearly works. Part of the writer's job is to write even on the days when you'd prefer not to write. It's true that ideas come to you out of the blue and at the most unexpected moments, but the real job is sitting down and tussling with those ideas until they start to move in new directions.
How long it takes me to write a script depends on a lot of different things. I think it was Neil Simon who said, 'writing is re-writing' and before producers and commissioners are involved it's perfectly possible to write and re-write indefinitely. Once a script is commissioned (and in radio that also means it has already been given a broadcast date) the train is in motion and I just have to get it written. I find that I revise, refine, re-write and polish on a daily basis. I don't deliver rough first drafts and I won't let a draft off my desk until I'm happy to stand by it in a meeting. There are always notes, but I like to know I've been rigorous and set myself tough notes, before anyone else does.
I work in an office at the end of my garden so my daily commute is pretty exhausting.
As we've heard in some of your radio shows, you're quite a good 'documentary' presenter. Ever thought of branching out to become the next Louis Theroux on telly?
When Incredible Women finally makes it onto the screen we'll see how things pan out. I have presented quite a lot of 'straight' radio documentaries before Incredible Women and I've got one or two documentary telly ideas I'd like to make.
What's next for you Jeremy?
I'm hoping to write another series of Jack & Millie with the regular cast and David Tyler producing at Pozzitive.
In the meantime I have just completed Series 12 of The Charles Paris Mysteries starring Bill Nighy, Suzanne Burden, Jon Glover and a guest star I'm not yet allowed to mention.
We'll record early in 2019 and the BBC have already asked for another series after that. In the meantime I'm cooking up two new ideas for BBC Studios Comedy and talking to an TV indie about a comedy drama.
---
Listen to Lena Marsh, Live and Shticking! on BBC Sounds