Jack Rooke introduces his Radio 4 stand-up show Good Grief below. We talk about some other topics too.
Hi Jack. You have a show on Radio 4. Would your younger self believe that?
Hey British Comedy Guide! Right now I'm laughing because I can remember younger me in my Auntie Jen's battered Ford Estate, driving around listening to Radio 4, covered in plaster and paint because she's a home decorator. I remember thinking Radio 4 was so fancy! Our family called us the posh ones cause we loved a bit of Woman's Hour, so I think working-class me is probably more in disbelief than young whipper-snapper Jack.
What can people expect when they tune in to your show?
You can expect a really warm, friendly and funny exploration of grief and what happened when my black cabbie Dad, Laurie, died quite suddenly of cancer. And I'm not trying to be provocative or anything - it's just a story about a 15-year old boy and his 80-year old Nan embracing the weird, wonderful, awkward, hilarious and heartfelt things that happen during bereavement.
This is based on your debut live stand-up show. How long ago did you start performing?
I'm a newbie really, I started performing really dodgy ropey poems around 2012/2013, and then I joined the Soho Theatre Comedy Lab project which gives a lot of young people an insight into making comedy and the paths to take.
I would often hear that you start with a five minute set, then a 10, a 20, a 30, and then an hour. I tried to write five minutes about the funny things that happened after Dad died, but it ended up being an hour! So I took a blind leap of faith and begged a venue in Edinburgh to take me on with hardly any budget - and thankfully the risk paid off!
Can you do 10 minute club sets then, or are you purely a narrative-based storyteller that needs longer slots?
I can do a 10 minute club set if it's me doing funny poems about bereavement counsellors that fart, or being mistaken for a lesbian in gay clubs. I used to do a Katie Melua parody called Nine Billion Bisexuals in Beijing and I really love silly comedy. But I do prefer a longer slot because I use a lot of documentary clips in my work, especially interviews with my dear old Nan Sicely, so it means I can create something that has loads of elements to it.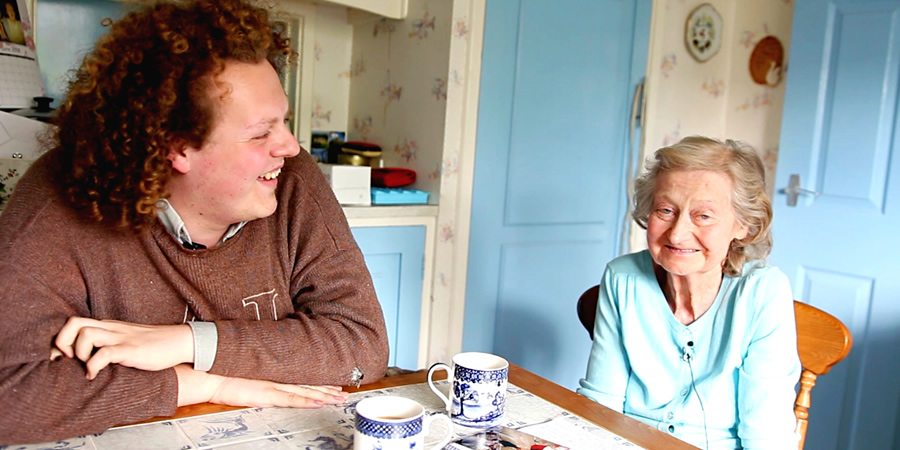 You've made a comedy show about a sad subject. How long did it take to get the balance right between the laughs and the poignant moments?
If I'm honest, I am a comedy fan. I don't really watch theatre or read plays. So for me it was crucial that this show was funny. I don't want people to listen and feel sorry for me - that's beside the point. For me, Good Grief is about empowerment - empowering people to laugh when times are so shit you feel like they can't get worse. I feel like laughing and crying is the same thing - you tread the same physical line when you do them.
So I hope audiences laugh and cry with sadness and joy in equal measure!
Have you had any notable audience reactions since you started performing the show?
When I perform the live show, I have a floral cardboard coffin on stage full of my favourite comfort food. It was donated by Coronation Street who used it for Hayley Cropper's funeral, so it's a bit of telly death history! And one time an audience member tried to get in it without my permission and I had to wrestle them away. Kinda hot right?
You're touring the live show still. Is it hard to keep talking about the subject matter, or have you become somewhat detached from the words and their meaning now?
Well, I delayed the tour twice due to my Grandad's death, and needing to have a break from talking about grief.
The whole point is for audiences to see that, when you lose someone huge in your life, it doesn't need to shape or define your identity. At school, after Dad died, I very much felt like the boy whose dad died, and I don't really wanna take that into adulthood with me.
Stewart Lee has a great joke about how many dead dad shows there are - and I made this show knowing the trope existed. For me, it ain't really at all about my Dad, it's more me and Nan - how we tackled tragedy with laughter.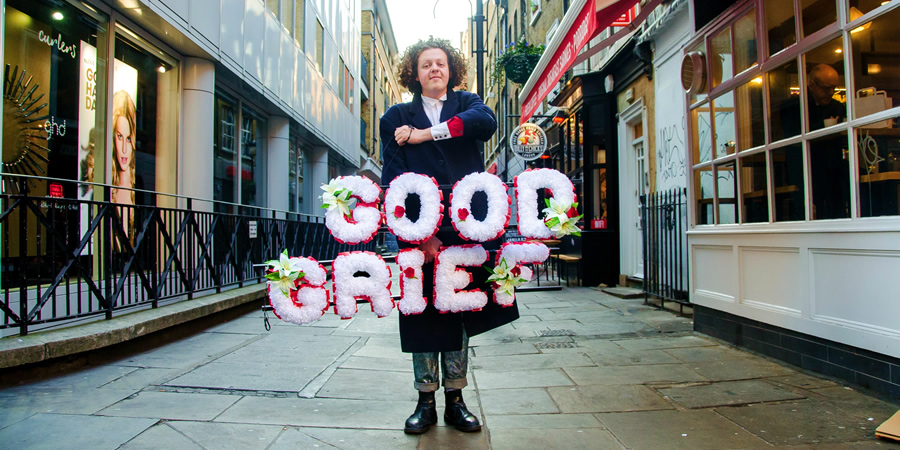 For anyone who is having trouble getting over the death of a loved one, what advice would you give them?
I guess it's my last answer. Don't let it change your identity. And I mean that in the sense that grief strips you of your character. It strips you of happiness and feeling like you can embrace the future. Obviously the death of a loved one changes you, but I really want to say that it's important to do things to cement yourself - laugh, eat whatever the fuck you like, carry on being YOU!
You're now developing your next show, titled Happy Hour. How's that process going? Any 'difficult second album' syndrome?
Happy Hour is definitely a follow-up, starting where Good Grief ends and thematically there are similarities. But Happy Hour is more grown up and darker. It's not as sweet as Good Grief. It's a bit of knees-up and is set in loads of different pubs along Kilburn High Road where I lived during uni. I'm working on it with a comedy pal of mine, Richard Gadd, who was probably the biggest champion of Good Grief when I first did it in London. I think we've both got similar outlooks on blending comedy and theatre, so let's see what happens. *Winks and nervously scratches chin*.
Now, we know you're a Spice Girl fan... So a tough question to end on: If you had to pick between the Spice Girls reforming to perform a special gig at your house; or Good Grief being the biggest rated comedy on Radio 4 this month?
I don't want the Spice Girls to reform, purely because that London Olympics performance where they're all on top of the campest, LED-lit, black taxi-cabs felt to me like my Dad curated that performance for younger me. So I'll take the ratings!
P.S. Dear Geri Halliwell. Pretty please tweet me @JackRooke and my BBC iPlayer Radio link and my UK tour. You're featured in the show darl! GRRLPOWER! Thanks G x