See Also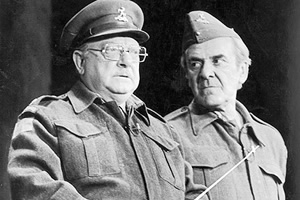 The classic BBC television sitcom Dad's Army captured the hearts and minds of a nation on television, before branching into film and radio.
Beloved sitcom about the struggles of a Home Guard platoon during World War II who are fighting incompetence, age and pomposity more than Nazis.
Feature-length film version of the classic sitcom about the Home Guard unit of a small seaside town.
Whilst the Walmington-On-Sea Home Guard are most famous for their exploits on television, they did also carry out their duty on the wireless.
Ron Archer and son Trevor set out to buy and rennovate the more-than-a-little dilapidated pier at Midbourne.