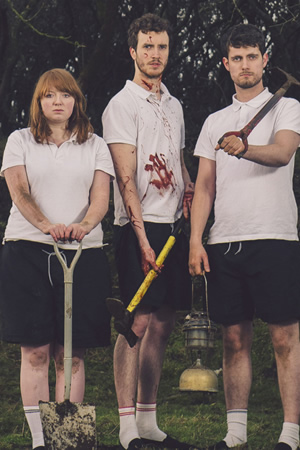 Sketch group Gein's Family Giftshop have had a great twelve months, and now they're all set to record their first radio series too. BCG catches up with them below...
Er, Who is/are Gein? Where's the Giftshop? What does it sell?
Gein's Family Giftshop is a vanity project formed by four Salford University graduates that has got out of hand. Jim is the boss, Kath is the woman, Ed is the penis and Kiri is the menacing one you can't see, she's our cthulhu.
If we were a shop we'd sell those severed feet you can buy with female genitalia built into the ankle stump... and postage stamps.
Eww. So we guess it would be fair to describe your style of comedy as 'dark'? What are your comedy influences?
We don't think it's dark but then plenty of serial killers think they're on a legitimate mission from God, so who knows!
Our comedy heroes include The League Of Gentlemen, Big Train and Blobby Land.
Talking of the League of Gents, Steve Pemberton and Reece Shearsmith asked you to get involved in the Cold Comfort episode of their TV show Inside No. 9... what was that like for you?
It was like our comedy heroes had just asked us to be in the best thing that's on tele at the moment, it was just like that except we had to get up earlier than we imagined!
How comes Kiri doesn't perform with the rest of you on stage? Do you all have bad breath or something?
Bad breath, bad blood, bad bones. Anything that's bad, we've got! Kiri is all good... except for her acting skills, which are rotten to the core.
You've picked up a number of award nominations and wins in the short-ish time you've been working together. How are your egos doing?
They fluctuate. Often they're swollen to the point of bursting, like that sheep cadaver we got Jim for his birthday. More often than not they're fragile and transient like those Chinese lanterns that slaughter owls on their descent to Earth though.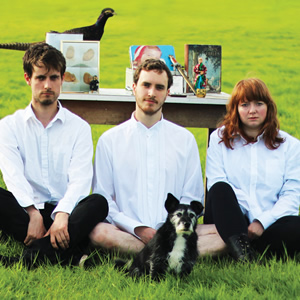 You've been picked up for a series on BBC Radio Wales. What can people expect?
You can expect the unexpected because it's actually TV! Not really, we're not ready/thin enough for that.
Each episode will have a completely different theme. Without giving too much away, one is set on an island, another follows a brutal murder and the third one we'll just vibe out on the night.
You're also returning to the Edinburgh Festival this August. What's in the new show?
More blood, less jizz. Also, better sketches, more heavily veiled social commentary and a bit where Ed pretends to get a boner. Classic Gein's really!
You're heading back to the Fringe with the label 'Foster's Edinburgh Comedy Award Best Newcomer nominees' now in your marketing arsenal... does that help?
It is a beautiful weight around our fragile necks. We always want to do the best job of everything we do. Last year we got to do that for a good while without anyone giving a shit, which was sort of liberating. This year there might be more of an eye on us which means we need to step up or rip that eye out and eat it so we can absorb its power... either is fine.
Gein's Family Giftshop are recording their radio series on 8th and 15th July 2015 in Salford. Free tickets
'Gein's Family Giftshop: Volume 2' will be on at the Pleasance Courtyard in Edinburgh from the 5th to 30th August at 10:45pm. Tickets