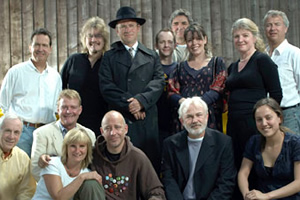 Svlad Cjelli, better known as Dirk Gently, is one of comedy author Douglas Adams' lesser-known, but still respected creations. Gently is a 'holistic detective', believing in 'the fundamental interconnectedness of all things'. His Holistic Detective Agency goes out of its way to solve the whole crime and find the whole person.
Gently appears in three novels, Dirk Gently's Holistic Detective Agency, The Long Dark Tea-Time of the Soul and the never completed novel The Salmon of Doubt. This series of books is currently being adapted for the radio by Dirk Maggs, who also adapted the last three novels in The Hitchhiker's Guide to the Galaxy for BBC Radio 4. This new project will include an attempt to finish The Salmon of Doubt.
The radio adaptation of the first novel was broadcast in 2007, with Harry Enfield playing the role of Dirk Gently and an all-star supporting cast backing him up (including Robert Duncan and Andrew Sachs). The story included several plots, the main one being the murder of Gordon Way (Robert Duncan), owner of WayForward Technologies II. The police suspected that it was one of his employees, Richard MacDuff (Billy Boyd) who committed the crime, but Dirk tries to prove his innocence.
However, as he tries to get Richard off the hook, Dirk becomes entangled with the plot of ancient aliens, a 200 year old chronologist, Samuel Taylor Coleridge and an 'Electric Monk' who believes whatever it is told to believe. The case eventually leads Dirk on a mission to save the world by travelling back in time!
The second novel was broadcast in 2008. The Long Dark Teatime of the Soul saw Dirk falling on hard times, until a frantic client with a ludicrous story about being stalked by a goblin turns up waving a contract and accompanied by a hairy, green-eyed, scythe-wielding monster!
Plans to adapt the third Dirk Gently novel (the never completed The Salmon of Doubt) have been on-and-off. It was first planned to be done, but the plan was stopped because Maggs had decided not to write or direct the series and set up his own production company instead. However, in May 2009 it was announced that a new writer, Kim Fuller, has been brought in to finish the novel and adapt it for the radio, for broadcast in the summer of 2010. However, the plan was scrapped because "there was not enough of Douglas" in the project to make it worthwhile.
Instead, there are now plans to adapt the novels for television. It is not known when such an adaptation will be broadcast.