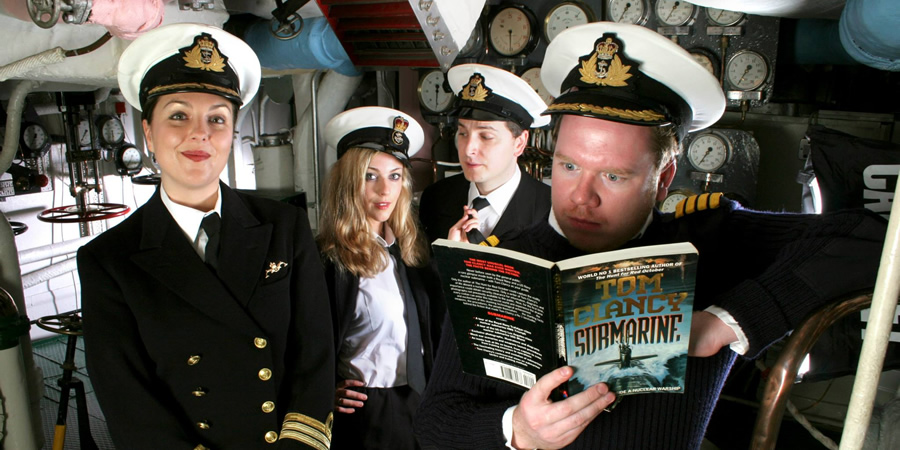 Genre

Sitcom

Broadcast

Channel

Episodes

Starring

Jim Field Smith, Katherine Jakeways, Ben Willbond, Miranda Raison, Alice Lowe, Dan Skinner, Gareth Tunley, Rufus Jones and Jonathan Ryland

Writers

Director

Producer
2012 - In an increasingly uncertain defence environment, a deadly new arms race has begun. In an attempt to secure her boundaries, Britain has deployed the very latest sub-sea military technology.
Beneath and beyond the front line, these are the adventures of the HMS Goliath. A 55,000 tonne M-Class nuclear stealth submarine, prowling 5,000 metres below the surface. Manned by idiots.
The idiots in question consist of lunch-loving Captain Paul Wade, old school Commander Alison Fairbanks and the frustrated Lieutenant Jack Trainor (pronounced "Tren-oor" apparently).
Tagline

They'll certainly never be far from trouble. Deep trouble. Running deep. Running silent. Running away.

Production companies

Laugh track

None
Broadcast details
First broadcast

Thursday 20th October 2005 on BBC Radio 4 at 11pm

Last new broadcast

Thursday 14th June 2007 on BBC Radio 4 at 11pm

Length of episodes

30 minutes

Last repeat

Tuesday 13th August 2013 at 10:30pm on Radio 4 Extra
Website links
BBC Homepage
The official homepage for the series.
Pozzitive.co.uk
An in-depth article from the production company behind the series. See radio section.