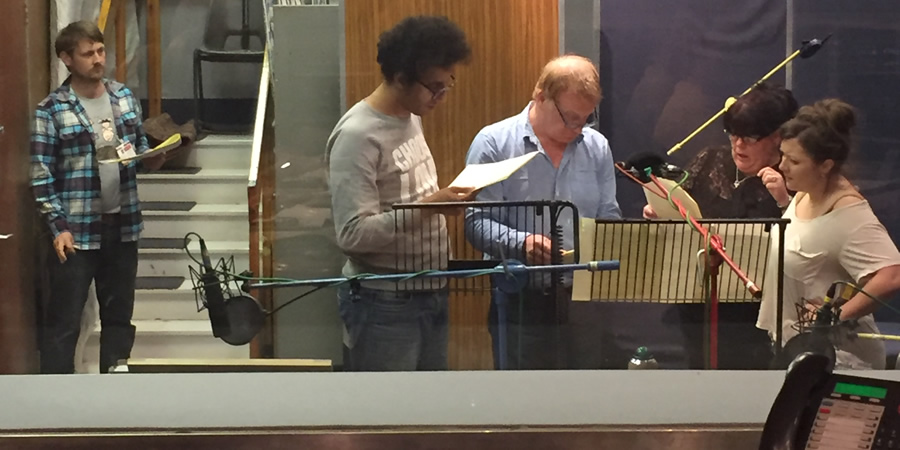 Genre

Sitcom

Broadcast

Channel

Episodes

1 Pilot

Starring

Writer

Producer
Daf's Cabs is Rhosdir's premier (only) cab firm, but poor Daf can't catch a break - his heart's playing up and people won't stop fussing. There's work to do, the Bank Holiday Funday, competition from Max's Taxis in the next village... not to mention his beloved daughter Karen is finally coming home from the big city.
As Daf tries to micro-manage, Imran suggests Daf's Cabs needs a stronger social media presence, especially as rival Max is offering half-price fares, on their patch - Ffion needs to get on the case!
They can barely calm Daf enough to prevent a second heart attack when Karen arrives. She's here to look after him as he said he was feeling 'under the weather' and is distraught to find out how ill he's really been. She orders him home, feet up, so she can take care of him, but Daf has other plans. He wants Karen to stay put today and run the family business, and insists his cleaner Anastasia can take care of him. Karen takes some persuading and agrees to help out in the office, putting Ffion's nose a little out of joint, while Imran's a little love-struck by the new arrival.
Things are frosty in the office between Ffion and Karen, who needs to learn the ropes pretty quickly, as Ffion is off down the beauty salon for her regular appointment. Karen is petrified, she can't run the place on her own!
Driver Trevor then calls in to say one of his fares has been poached by Max's Taxis. The women have no idea how he's swooped in, but they're rightly worried. Then Imran calls, his fare's been nabbed too - something suspicious is afoot. As they realise they're going to have to work extra hard to win their bookings back, Karen has to let a disappointed Ffion know she won't make it to the beautician, as it's all hands on deck - not least to keep the truth from Daf, whose house-bound, but unable to give up his back-seat driving.
The gang think Max has hacked the phones or bugged the office and Karen is duped into going down to the Funday to confront him. Max is a bit of a charmer... or is that smarmer? He smirks as Karen accuses him of all sort of slanderous allegations, and agrees to stop nicking their calls - on the condition that Karen goes on a date with him. Karen is affronted, but he makes a deal, if Daf's Cabs gets more jobs than him by the end of the day, she's off the hook. A dazed Karen gets back in Imran's car - not quite sure what just happened.
Back in the office, a jealous Imran is infuriated by Max's indecent proposal, but Ffion has a plan. She takes Karen out to the Ideas Lab (aka smoking area) to discuss it: using her unique and exhaustive knowledge of the inhabitants of Rhosdir, Ffion reckons she can pre-empt every call for the rest of the day and get cabs to punters before even they know they're going anywhere. Karen's intrigued.
Production company

Laugh track

None
Broadcast details
First broadcast

Friday 14th October 2016 on BBC Radio Wales at 6:30pm

Episode length

30 minutes

Last repeat

Saturday 18th February 2017 at 1:00pm