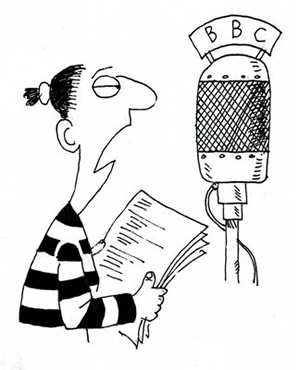 'Clare in the Community' has returned to the airwaves for a seventh series on BBC Radio 4. To coincide with the new episodes, we caught up with the show's creator, cartoonist and writer Harry Venning. A mauled bird and Haribo are just a few things that crop in the conversation...
Hi Harry and thanks for putting some time aside to talk to us. Why did you choose social work as a subject for a sitcom?
Clare was a strip cartoon (and still is!) before she had a radio show. One of my friends worked at a magazine publishing house and their social work magazine had a gap that needed filling. So the subject chose me. Care Weekly [the magazine] almost immediately folded, at which point I took her to The Guardian.
Indeed, the Clare cartoon strips still have a frequent slot in the Guardian's Society section on Wednesdays. You write the radio show jointly with David Ramsden. How do you and David behave when writing?
We live in separate towns (Brighton and London) so we see each other sparingly. Writing is book-ended by lunch before and a trip to the pub afterwards, so it's very civilised. Work is punctuated by moaning and eating Haribo sweets. When the writing is going well we have a laugh. Last series we went off to a secluded cottage to write and didn't end up killing each other, so generally it's all good.
So would it be fair to say you both share the same comic interests?
When feeling lazy we watch DVDs as research. Cheers, Father Ted, The Larry Sanders Show and Frasier are shared passions.
Nice list. How long would you say writing a script takes, from a first draft to the finished product?
Impossible to say. It all depends on how hard each script is. The whole process is strung out over 6 to 9 months but speeds up towards the end.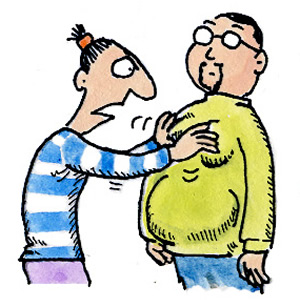 So how many edits would an episode go through before you and David considered it finished and fit for broadcast?
Unlike most shows, we prepare at length so the first draft is usually quite close to the finished product. Three or four rewrites, mostly tweaks and adjustments, follow.
Is there anything during the whole process, from writing to recording, which you love more than any other? And equally, anything you dislike?
I love the first read throughs with the cast. I hate the beginning process of thinking up plotlines.
You mention the cast there. Are they easy to work with or can they be hard to control?

They read, rehearse and perform two shows in a day so there isn't much leeway for misbehaviour.
So are there any personal experiences that are ever worked into an episode?
Dickum the wounded bird in episode two of this series is based upon my failed attempt to deliver a painless death to a mauled bird.
Ooh, we're strangely looking forward to hearing that episode. So do you create/write/draw characters with a certain actor in mind beforehand?
Yes and then our producer Katie Tyrrell says we can't afford them and the cast will have to double (treble? quadruple?) up roles. Although we've got Sophie Thompson in two episodes this series.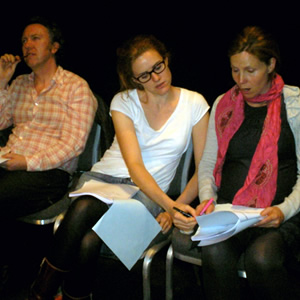 Oh yes, the doubling-up predicament. We guess it just goes to show how good the cast can be when they do that. Regarding actors; were the original cast members (Sally Phillips, Alex Lowe, Nina Conti and Richard Lumsden) the initial candidates for the roles or were other people auditioned?
Our producer Katie cast Clare, so we had no input. But she did a very good job!
What caused Gemma Craven (Helen) and Ellen Thomas (Irene) to leave the show?
Gemma got a part in Heartbeat, which pays a lot better. After five series we felt the office needed a shake-up and we replaced Ellen's character with Libby, played by Sarah Kendall.
Sarah Kendall may be a familiar name to fans of stand-up, having been nominated for the Perrier back in 2004. Has she become a welcome asset to the show since her debut in Series 6?

Sarah is fab. We needed to enliven the office and wanted somebody prepared to go up against Clare and create a bit of conflict, which is what Libby does.
Liza Tarbuck now plays Helen after Gemma left the show. Do you think Tarbuck's job was made easier or harder by the fact her character previously belonged to another actor?
Both are great, but the transition has been seamless.
Clare and Brian becoming first-time parents was a major theme within recent series. While this is still prominent in the new run, are there any other main stories propelling this series?
We just needed to shake things up a bit. The guiding rule of sitcom is not to have too big a storyline as nothing should ever change. Series seven has more or less brought things full circle (but with an added child and au pair).
Is there one character above any other that you find is easier to write for, or indeed enjoy writing for more, than any other?
Nali the au pair is a joy to write for.
Before the radio series came about, 'Clare in the Community' was piloted for ITV but never made it to broadcast. Did you learn anything from that process?
TV pays better but radio treats you more kindly. Adapting it for radio was incredibly easy, as TV sitcoms are usually just people standing around talking. Visual humour costs money.
What was the incentive behind your recent sitcom 'Sneakiepeeks', which also starred Lumsden and Conti? Sadly it wasn't as well received. Was there pressure riding on this show considering the popularity of Clare?
Dave wanted a year off Clare so I wrote Sneakiepeeks with Neil Brand. With hindsight the character dynamics weren't strong enough. But at the time we thought it was great.
What with 42 episodes of 'Clare In The Community' now recorded, the show seems freer to expand the stories it explores and go deeper into each characters back-story...

Some exploration of character backgrounds is good, but Clare drives the show and as writers it's important not to forget that!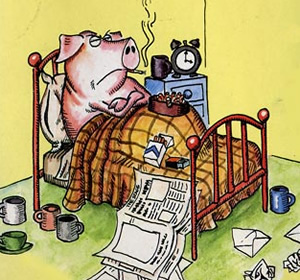 Seven series is a lot for any show. Did you ever think the sitcom would be so popular and get this far, and any thoughts on the show's future?
Our policy has always been to keep writing it until somebody tells us to stop. Nobody has (yet).
Any advice you could give to upcoming scriptwriters?
Lots and lots of good gags. Keep them coming. You can play around with tone, character, plotlines etcetera as long as it's through the medium of gags.
And finally, what's next on the drawing board for you?

Re-animating a TV idea that has lain dormant during the Clare process... Trying to get Hamlet the Pig (pictured), my cartoon strip from The Stage, animated.
Thanks very much for your time Harry and best of luck with everything.
'Clare in the Community' is currently broadcasting on Fridays at 11:30am on BBC Radio 4. Series 1-5 are available on CD and series 6 via download. Visit Harry's websites www.harryvenning.co.uk and www.clareinthecommunity.co.uk for further cartoons and other projects.