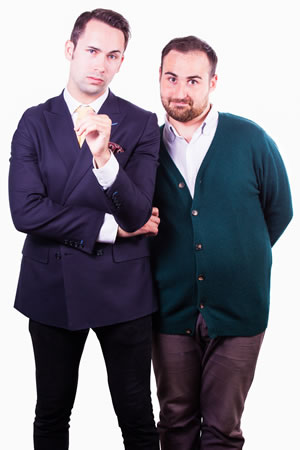 Award winning comedy duo Max & Ivan - aka Max Olesker (in the suit) and Ivan Gonzalez (in the cardigan) - have a new Radio 4 series. They explain more here:
Max: Hello, internet!
Ivan: [Waves]
Max: Max and Ivan here. In light of our upcoming Radio 4 series, The Casebook Of Max And Ivan, which documents the vital and important work we have conducted as private detectives, we've met with British Comedy Guide in the conference suite of their towering headquarters. They've asked us to assemble a list of what makes us so good at what we do, so here's a quick and punchy top five...
Ivan: OK, top fives. Well, 5ive, the band, obviously. 'Five a day', the healthy eating concept -
Max: No, Ivan -
Ivan: A five pound note - love it.
Max: Please -
Ivan: Fife?
Max: Right, Ivan, stop immediately. We're explaining why we're world-class private detectives, by giving five separate reasons.
Ivan: Ah, got it.
Max: Great. Let's begin.
Ivan: Number three!
Max: I mean, it's remarkable how quickly you've got that fully wrong.
Ivan: What? Much like with bananas, I like to start in the middle.
Max: I've been meaning to talk to you about that. Also, people don't eat the skin.
Ivan: Pffft. 'People'.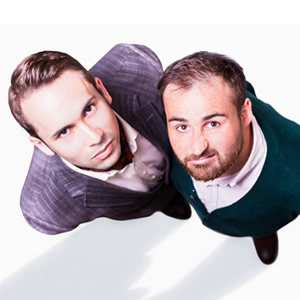 Max: Number 1; we've got an immaculate track record. 100% of our closed cases have been solved successfully.
Ivan: Yeah! And if we're unsuccessful, we just don't close the case! Simple!
Max: Ivan, shut up.
Ivan: Let's just say 93% of our cases are 'ongoing'.
Max: Number 2 -
Ivan: Hee hee!
Max: Ivan, please.
Ivan: What? It looks like a swan - the funniest of birds!
Max: We take on any job. Literally.
Ivan: Yeah! I held one of those 'Golf Sale' signs once, for a year.
Max: That was a slow year.
Ivan: Not at the golf shop, mate. They had a crazy sale on!
Max: Number 3! We provide the personal touch. Other, larger firms might try and dazzle you with 'staff' and 'equipment' and offices with 'electricity' -
Ivan: Try-hards.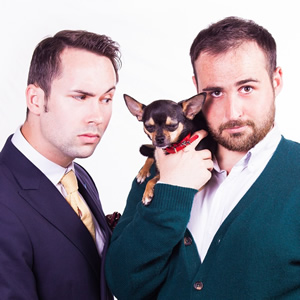 Max: But when we take on your case we're with you the whole way. We'll even come and stay at your house. In fact, if you don't want us to do that, you have to specifically cross out an obscure clause buried deep in the middle of the contract we sign on your behalf.
Ivan: We're essentially squatters.
Max: Number 4!
Ivan: We're cheap as chips.
Max: That's not a metaphor. We're prepared to price-match the fish and chip shop that's below us.
Ivan: Also, I get paid in chips! [Thumbs up]
Max: Yes you do, Ivan! Because, as we know, there's a minimum height requirement for the minimum wage.
Ivan: Yeah, thanks for explaining it all to me, Max! You're a great friend and employer.
Max: No problem.
Ivan: I do wish it wasn't illegal for me to earn money.
Max: Number 5! We're the model of discretion.
Ivan: You betcha.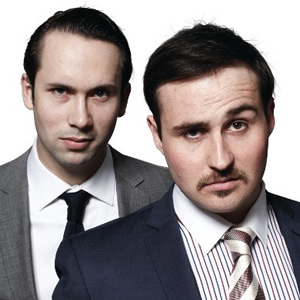 Max: Take one recent client, who asked us to recover money stolen from the illegal cock-fighting ring he runs out the back of his house.
Ivan: Yup. Let's just call him...Mr. 'D'.
Max: Yep.
Ivan: Mr. 'D'...'Winton'.
Max: Ivan!
Ivan: 'Dale Winton'.
Max: Right. I think this interview's over.
Ivan: Dale Winton owns and operates an illegal cock-fighting ring at the back of his house.
Max: Do tune into The Casebook Of Max And Ivan, 6:30pm on Radio 4, every Tuesday in April.
Ivan: On slow nights, he'll fight a cockerel himself.
Episode 1 of 'The Casebook Of Max And Ivan' features guest star June Whitfield as beauty pageant judge Dame Deeply-Inappropriate. There's a preview clip below. You can hear the full episode on iPlayer
Published: Tuesday 7th April 2015