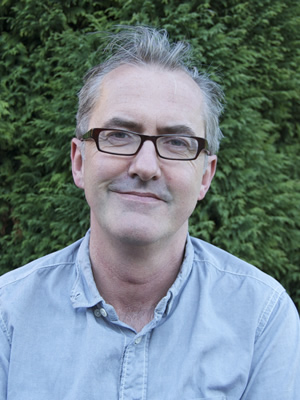 Bill Dare is a British comedy writer and producer. In his role as a producer he's worked on notable shows including The Mary Whitehouse Experience, Dead Ringers and Spitting Image. As a writer he's the man behind Radio 4's Brian Gulliver's Travels, which is now also a book, as he explains in this interview...
Hi Bill. How did you get into comedy?
I was an unwilling actor, unemployed theatre director and failed writer for a few years, then I wrote a play that made it onto Radio 4. That gave me the confidence to answer an ad in the Guardian to be a trainee radio producer. They didn't know about my Dad (the quite famous actor Peter Jones) but, when I got the job, I was teased about it anyway.
You've worked as a producer on a number of notable shows... what are your personal career highlights so far?
I really enjoyed getting my two plays up in Edinburgh and my first novel getting published was a great thrill for someone who came bottom of the class in English. The Dead Ringers radio series was probably the most popular thing I've ever done, and mostly fun to do.
I also really enjoyed making a live TV show with Marcus Brigstocke - The Late Edition, for BBC Four.
Oh, and The Secret World. It's not had the same impact as Dead Ringers but is equally good, I think.
We love The Secret World and Dead Ringers! Is it a coincidence you've made a lot of shows that involve impressions?
The thing about TV and radio is that once you've had a success in a genre they want you to keep making the same thing. A lot of life is like that. If I came up with a naturalistic TV sitcom (which I have, hasn't everyone?) the reception tends to be: 'but Dare is a topical satire/impressions man'.
You're a writer as well as a producer. Do you have a preferred role, and what about a favourite medium - print, TV or radio?
I think I'm a bit unlike most people who work in TV in that if I have an idea, and it's not right for TV, I don't abandon it. Instead, I think: 'what else can I do with this idea?' Is it a radio show? A novel? A play?
Actually, I don't always even think of TV first, by any means.
For me, it's about the work, not the medium. Which is why I'm not rich.
Writing or producing? A tricky one. Producing can be more fun, but writing is ultimately more fulfilling. It was what I always wanted to do. I think really it's about the individual project. If what I'm doing is working, then it's fun.
Do you have any tips for aspiring producers and/or writers?
I think the dedicated comedy writer is an endangered species. Most comedy shows these days feature the writer/performer. Miranda, Mrs. Brown's Boys, Count Arthur Strong, Not Going Out, Getting On... and that's not including the sketch shows. The most practical advice I could give to a writer is - be a famous performer as well. If you can't be famous, make friends with someone who is, and write for them. I'm not being cynical, just pragmatic.
Do radio - and not just as a 'training ground'. Do it because you love it. (It helps if you have a personal fortune because it pays less than the minimum wage if you do it properly.)
And always write from the heart.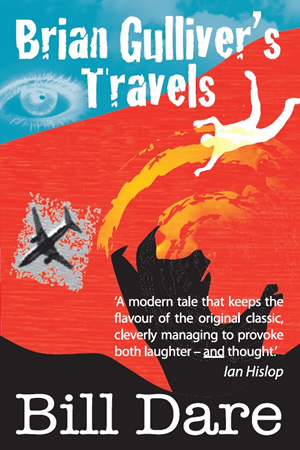 So, the main reason we're talking today is you've written a Brian Gulliver's Travels book...
I have always wanted to write a satire about someone visiting other worlds, but I've never been that into spaceships and aliens. I don't know exactly how Brian Gulliver's Travels popped into my head, but when it did, I thought it was the sort of thing Radio 4 might go for (although they are not keen on Sci-Fi, because they are keen on literary references and pastiche). It combined something I could be passionate about, with something they might commission.
In Brian Gulliver's Travels I get to put my philosophy degree to good use, and not many philosophy graduates can say that.
The character of Brian emerged as a hard-drinking, self-indulgent, ladies' man who likes cake. (Not at all autobiographical - I don't like cake.) I enjoy the fact that he is deluded, not about his travels, but about his own hedonistic nature. He would never admit he's a hedonist, even to his god (not that he has one).
The most famous novelisation of a radio series is The Hitchhiker's Guide To The Galaxy, and your father was the voice of The Book in that. Do you feel any pressure to try and live up to H2G2's success with this book?
Haha... I absolutely adored Hitchhiker's Guide. My Dad had done some quite naff stuff around that time, but when he did Hitchhikers I felt really proud.
It had a big influence on me, but I couldn't aspire to that kind of success. It was a one-off.
Only some of the radio episodes have been adapted for the new novel. How did you decide which would be the best ones to put in the book?
Some of the episodes dated a little. For example, one of them was partly a satire on health and safety. In the few years since I wrote it the target has become a bit too familiar.
Some of the episodes in the two series had a similar structure or shape, so I couldn't include both.
You've also added some extra elements that don't appear in the radio version. Are these ideas that you originally had when writing the series but couldn't fit in, or are they later things that you thought would improve the story?
With the book I was able to go into some more complicated and (as someone said) 'difficult' areas. There's a chapter in which Brian sleeps with a woman who gives herself to him for altruistic reasons. On radio, I could only deal quite superficially with that situation. With the book I really had to do some heavy intellectual lifting, dust off some old philosophy books, and try to grapple with it.
Each chapter is about a different country: if you had to live in one of them, which would it be?
Well, certainly not the one where pigs rear humans in farms. Although, thinking about it, they also keep them as pets. I think that would be rather nice. I would have to perform at human shows (the equivalent of Crufts) but being a pet might be nice, especially since the pig creatures are essentially kind and very intelligent.
The story about 'Hermica' spans two chapters, unlike the other countries. Is charity something you feel particularly strongly about?
It was by far the most complicated idea. It combined religion, altruism, free will, commodification of the human body, informed consent... quite a lot to grapple with; I needed more space.
Are you writing any more of Brian Gulliver's Travels, for either print or radio?
I'm half way through Volume 2 of the book.
Great! What other projects are you working on at the moment?
I'm writing and producing more The Secret World later in the year and a few other things are probably coming back, but I don't know yet. I'm writing a script for TV. What I find odd about TV people is that when I say "I'm writing a novel", they tend to say "great, what else are you working on?" as if writing a novel is something part time.
Thanks for all your time Bill, and best of luck with all the projects!
Bill's Brian Gulliver's Travels book is available online and in shops now. Find out more & order