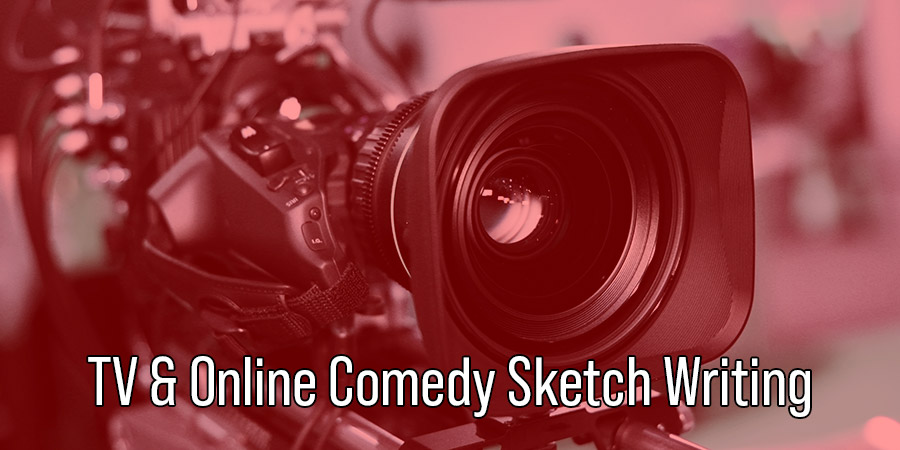 TV & Online Comedy Sketch Writing: RED course

Watch Chris Head talk about his sketch comedy writing training.


7pm-9pm UK time.
On the course, you will be inspired to write lots of new sketches and you'll enhance your sketch writing skills. You might be writing for TV, YouTube, social media, radio or the stage. This course has different examples sketches, techniques and inspiration from GREEN or BLUE.

Each week takes a different theme and in the Zoom sessions we watch, analyse and discuss a wide range of comedy sketches from TV and online to uncover techniques and approaches. This is all a springboard to you writing your own brand new sketches. There'll are also creative exercises in the class to get your ideas flowing.
In RED you'll work on:
- Topical sketches: great for Newsjack and anywhere else you want to be satirical like social media. We look at taking people in the public eye and current issues and writing sketches. Examples come from Saturday Night Live, the Mash report (or Late Night Mash) Newsjack and Peter Cook.
- Job interview sketches - this is a great format for presenting characters, whether comical interviewees or interviewers and we'll explore classic examples from Mitchell & Webb, Python and a range of great online sketches.
- "Unsaid said" sketches (as I call them) where characters say the thing that is normally not said - for example the Key & Peele school bully who reveals to his victim how his inadequacies have led to him bullying. This is a great technique that can be used in all sorts of sketches.
- Transpositions are a really fundamental comedy technique and you'll play with transposing characters on the course. Examples include Ghandi doing a modern day yoga class (a great online sketch) and Python's hairdressers climbing Everest. Learn how to relocate a character to great comic effect.
- We'll also look a parodies, starting with factual formats (news, documentary, weather etc) and going on to write spoof adverts. Approaches you will explore include substituting the content for nonsense, changing who is in the format, changing what is being talked about. Great examples come from SNL, Mitchell and Webb and more.
You'll also be taught/ reminded of the nuts and bolts of sketch writing:
- Point-of-view, voice-of-reason and reasonable/unreasonable behaviour in sketches
- Finding and playing the 'game' of a sketch
- Structuring sketches (using my SREP model).
The above gives a flavour of the examples we'll be watching. In 'Red' we'll watch and analyse sketches from Key & Peele, Tracey Ullman, Mitchell & Webb, Monty Python, Chris Morris, Rowan Atkinson, Aunty Donna, Fry & Laurie, Rose Matafeo, SNL, Monty Python, Harry Enfield and more.
Each class ends with a number of inspiring writing briefs for you to choose between and you write and share your script before then next class. Ahead of the next class, you'll receive personal, written feedback and guidance on the sketches you produce from Chris and the group. A Trello board accompanies the course with background information and resources. Then after each session, on the board, you will receive a video of the entire class, follow up notes and this space also becomes a forum for sharing comedy sketches, tips, info and for supporting and inspiring each other.
Leave the course with new sketches, enhanced writing skills and connections with a bunch of great comedy people.
For more about the RED, GREEN, BLUE series of courses, see below.