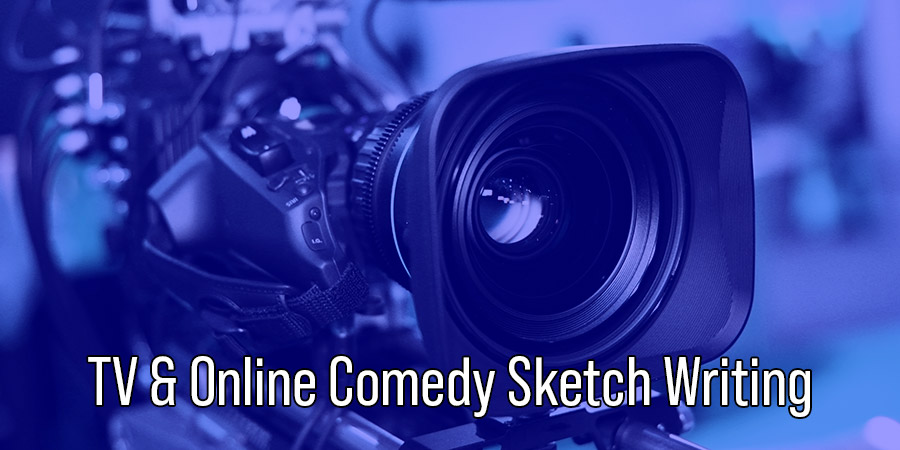 TV & Online Comedy Sketch Writing: BLUE course
HOW IT WORKS
On the course, you will be inspired to write lots of new sketches and you'll enhance your sketch writing skills. Each week takes a different theme and in the Zoom sessions we watch, analyse and discuss a wide range of comedy sketches from TV and online to uncover techniques and approaches. In 'Blue we'll watch and analyse sketches from Monty Python, Fry & Laurie, Key & Peele, Little Miss Jocelyn, Big Train, Fast Show, Saturday Night Live, Smack the Pony, Chris Morris, Famalam, Spike Milligan, Amy Schumer, Victoria Wood, Spitting Image and more. There'll be creative exercises in the class to get your ideas flowing too. This is all a springboard to you writing your own brand new sketches.
In BLUE you'll work on:
- Transaction sketches - shops and services - exploring using improv to develop sketch ideas and looking at Steve Kaplan's Straight line/Wavy line model.
- Characters whose speech is at odds with how they look or how they would normally speak.
- Sketches sending up the establishment - government, army, church and state.
- Teaching and training sketches - where the reasonable, normal teacher has to deal with challenging, unreasonable learners (and vice versa)
- Anthropomorphic/personification sketches on television and online; this is where you create characters from things, animals and anything non-human.
You'll also be taught/ reminded of the nuts and bolts of sketch writing:
- Point-of-view, voice-of-reason and reasonable/unreasonable behaviour in sketches
- Finding and playing the 'game' of a sketch
- Structuring sketches (using my SREP model).
Each class ends with a number of inspiring writing briefs for you to choose between and you write and share your script before then next class. Ahead of the next class, you'll receive personal, written feedback and guidance on the sketches you produce from Chris and the group. A Trello board accompanies the course with background information and resources. Then after each session, on the board, you will receive a video of the entire class, follow up notes and this space also becomes a forum for sharing comedy sketches, tips, info and for supporting and inspiring each other.
Leave the course with new sketches, enhanced writing skills and connections with a bunch of great comedy people.
For more about the series of courses, RED, GREEN and BLUE, see below.
No dates are currently booking.
Sold out? No suitable dates? Sign up to get updates from Chris Head. Notify me
About the RED, GREEN and BLUE series of courses
This is part of a series of TV & Online sketch comedy writing coures. Since you don't need to do them in any particular order, rather than numbering them I have named them RED, GREEN and BLUE (after the colours that make up TV pictures). This is . BLUE. The whole programme adds up to a uniquely comprehensive sketch writing training.
This is when they run. You can jump in at any point.
RED: Term 1 (starting Sept)
GREEN: Term 2 (starting January)
BLUE: Term 3 (starting June)
RADIO: Various times - you can also take this course in radio/ podcast sketch writing to add to your skill set and to expand your creative imagination.
(RED is also booking now for Sept 2021 and GREEN will be run again from Jan 2022.) All the courses cover the fundamentals of sketch writing and each one explores different angles on creating sketches. All of them inspire and get you writing.
---
This course is provided by Chris Head.