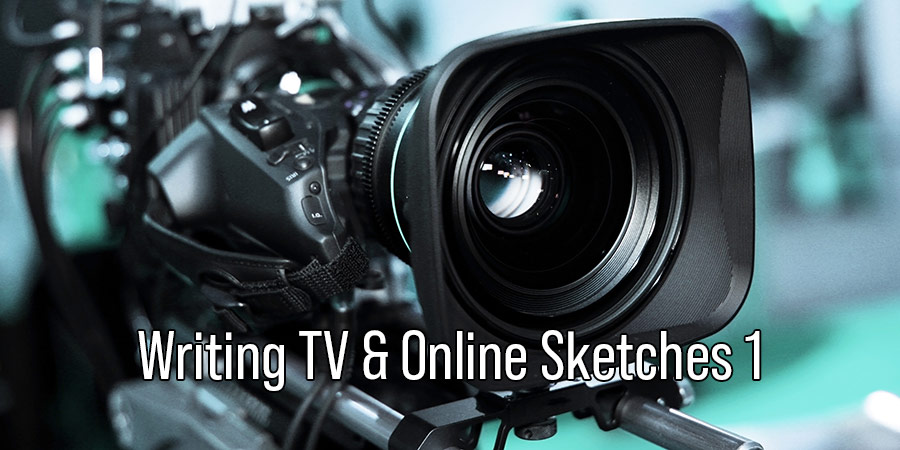 Watch this video to see how the courses work!
New year 2021 dates to be announced soon.
Please join waiting list to be notified.
On the course, you will receive a comprehensive grounding in creating characters, writing dialogue and structuring sketches. Improve your sketch writing for online videos, live sketch comedy, TV opportunities and it'll make you sharper for Newsjack too. Topics we will explore include:
- Creating characters
- Point-of-view, voice-of-reason and reasonable/unreasonable behaviour in sketches
- Writing dialogue
- Finding and playing the 'game' of a sketch
- Structuring sketches (using my SREP model).
- 'Unsaid said' - subtext spoken
- Changing context
- Transpositions
We'll take as our themes for this course: sending up people in the public eye and lampooning powerful types in society. This covers a very wide range of sketches featuring characters like police, judges, corporate bosses, teachers, politicians, celebrities, sport stars, media people etc. These can either be actual people you are parodying or fictional characters. We will also make comedy from sources of information in society like commercials, news, weather forecasts and sports reports. If you're interested in topical comedy you can go that way, but your sketches needn't be news/current affairs based.
As inspiration for your own work and to uncover tools and techniques. we'll watch and analyse sketches from Key & Peele, Tracey Ullman, Mitchell & Webb, Funny or Die, Monty Python, Chris Morris, Rowan Atkinson, Aunty Donna, Fry & Laurie, Rose Matafeo, SNL, Harry Enfield and more.
Leave the course with new sketches, enhanced writing skills and connections with a bunch of great comedy people.
No dates are currently booking.
Sold out? No suitable dates? Sign up to get updates from Chris Head. Notify me
More information on the course
In the weekly Zoom sessions we watch, analyse and discuss a wide range of comedy sketches from TV and online to uncover techniques and approaches. This is a springboard to you writing your own brand new sketches. You'll receive personal, written feedback and guidance on the sketches you produce. A Trello board accompanies the course with background information and resources. Then after each session, on the board, you will receive a video of the entire class, follow up notes and this space also becomes a forum for sharing comedy sketches, tips, info and for supporting and inspiring each other.
CLASS 1: Basing characters on famous people.
We will begin with sketches that are more straightforwardly topical before broadening our focus, but even here you have the choice whether to make a topical point with your writing or simply to be more timelessly comedic. We'll analyse classic comedy versions of people in the pubic eye from Key & Peele, Peter Cook to Tina Fey and beyond, taking in politicians, celebrities and sports people and will apply the techniques we uncover to your own character creations based on famous people. We'll also discuss how fictional characters can amalgamate the traits of a number of real people.
CLASS 2: Status & unreasonable/ reasonable behaviour
This week we will begin working with my SREP scene structure - set-up/ reveal/ escalation/ payoff - as we explore status and unreasonable/ reasonable behaviour in the context of TV interview and job interview sketches. We'll also work with POV (point-of-views) where we'll work with two two points-of-view, the reasonable voice-of-reason and an unreasonable character - and with single point-of-view scenarios (where there is no voice-of-reason.) We'll also look at the comedy of status, exploring situations where the unreasonable comic character is high-status (with a low-status voice-of-reason) and vice-versa. We'll analyses sketches from Key & Peele, French & Saunders and a number of brilliant online sketches.
CLASS 3: Transpositions and 'unsaid said'
This week we work with transposing characters to unusual contextsa and we'll also explore the 'unsaid said' - that is when an unspoken subtext or criticism is voiced by your characters. We'll work with big/small transpositions where important characters and situations are placed in an insignificant or trivial context (and vice-versa). We'll analyse example sketches from Key & Peele Tracey Ullman, Mitchell & Webb, Funny or Die, Monty Python and more.
CLASS 4: Format sketches
This week we'll look at taking a factual format that gives information, emptying it of its familiar content and putting in something incongruous. For example, taking the bombast of a serious news programme and putting in surreal nonsense, all delivered as if it's serious. We'll explore how you can:
- Substitute the content for nonsense.
- Use the format to make a point.
- Change who is in the format.
- Change what is being talked about.
- Treat fiction as fact
- Indulge in wordplay and language games.
- Work with dramatic irony.
Our examples come from Mitchell & Webb, Monty Python, Chris Morris and more.

CLASS 5: Advert parodies
We'll work with sketches that are parodies of commercials this week. We'll explore laughs of recognition and idiosyncrasy as we develop sketches that send up real adverts and also ones that advertise something that would never normally be advertised. Some will be lampooning specific current commercials and others will be sending up perennial types of adverts. We'll also explore working with adverts from different time periods and we'll look at how you might try and capture the style of the original advert or how you might create a deliberately lowfi parody. We'll analyse examples from Mitchell & Webb, Rose Matafeo, SNL, Harry Enfield and more.

This is the first part in a uniquely comprehensive three-part sketch writing course for TV & online - parts 2 and 3 to follow. There is a loosely structured progression across the three parts, however you are welcome to jump in at any point and do them in any order.
---
This course is run by Chris Head.