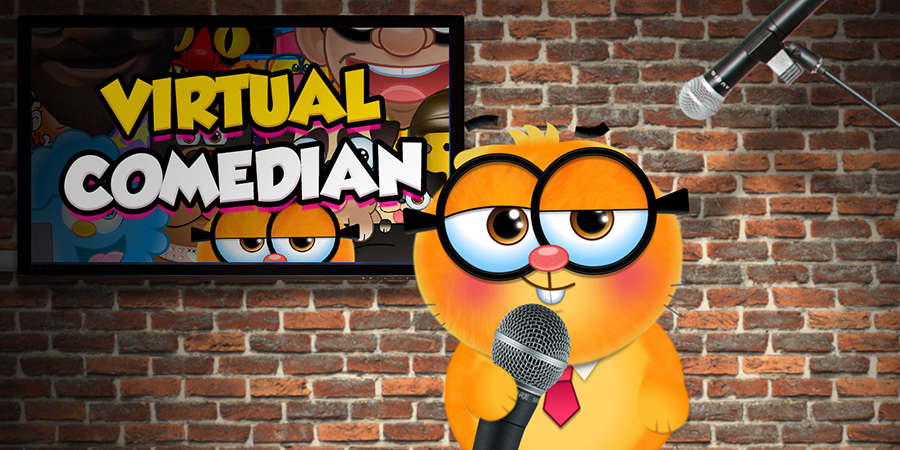 Can you write stand-up material for an animated character?
Digital Puppets, a production company that works with cutting-edge animation techniques, has teamed up with BCG Pro to find a comedy writer to join them on an exciting new project.
The company is developing a virtual stand-up comedian. The character has yet to be decided, but here they have mocked up a hamster to demonstrate their animation style.
The Digital Puppets team will be able to animate the character to perform whatever stand-up script is written for it. At first, they'd be looking to create some social media videos starring the creation, but their technology is powerful enough that the character could even be performed in real time in a comedy club setting, using facial mapping.
The eventual aim is to secure the character its own TV series and a Gorillaz-style live tour.
Interested? This could be the ideal opportunity for someone who knows they can write great stand-up material but doesn't want to appear on stage themselves; a writer-performer interested in appearing under a pseudonym with this exciting new technology; or a writer-performer who wants to perform jokes without having to travel around the country on the club circuit.
---
Digital Puppets is owned and run by brothers Antony Evans and Scott Evans. As an animation studio they create custom motion capture characters for companies including Disney, Cartoon Network, BBC and Adobe.
The idea for this project is that the chosen entrant will collaborate closely with Digital Puppets to build up the character, from look to persona and comic style. Antony and Scott will then handle animation, whilst the writer works on the material. The vocal performance could be delivered by you, if you are also up for performing; or as a team you could then find a performing partner.
Work on the project would be on flexible terms in order to fit around other projects, but it is hoped you will be available to write and have creative meetings via Zoom each month.
This is not initially a paid opportunity, but the selected entrant will own an equal share of the creation and benefit accordingly from its success as the project grows.
The brothers say: "It would be a group effort, so you would have equal say in what the character turns out to be, and everyone involved would get an equal share of any money made."
The below video explains more about the project and demonstrates the technology:
As Scott says in the video, if you have any questions about this opportunity you can email them on info@digitalpuppets.co.uk, or you can contact BCG Pro, and/or post in the forum thread about this opportunity.
Exclusively available to BCG Pro members, the application form is open until 30th September 2021. From October, Digital Puppets will begin to work through the submissions to pick a shortlist of people they'd be most interested in working with. Shortlisted applicants will then be invited for individual chats with the team via Zoom. Their chosen entrant will then be invited to discuss formalising an arangement that works for both parties.