We chat to Beth Granville and David Charles, the writers behind BBC Radio Wales sitcom Foiled, which is now in its third series. They give some absolutely brilliant in-depth insight here into the work involved in creating and sustaining a sitcom.
Foiled is back for a third series. For those that haven't heard the show before, could you explain what it's about...
Foiled is a sitcom set in Bleach For The Stars hair salon in Tonypandy, run by the senior stylist and manageress Sabrina, who would rather do literally anything else but cut anyone's hair.
Tell us more about how the show started life. It's not been your standard draft-to-broadcast route...
Beth: The show started life as a site specific short play in a hairdressers in Cardiff in 2011, it got a great audience response and a few years later I decided to revisit it and ask my brand new writing partner David if he'd like to write a full length version with me. #hesaidyes
Both: Since starting to work together in 2013, we've written written six different versions of Foiled...
1. 90 minute play in 2013. This was read to an invited audience at the Conservative Club, Cardiff. Fun, but didn't go anywhere.
2. Three x 10 minute webisodes in 2014. These were read and critiqued at London Comedy Writers, but never made.
3. 28 minute pilot for radio in 2014. This was read at an evening we organised at the Drill Hall and then (unsuccessfully) pitched via Rubber Chicken to BBC Radio Wales.
4. 28 minute TV pilot in 2015. This was pitched to half a dozen producers and submitted to the BBC Writersroom. Nada.
5. Eventually we realised that no one was going to just give us a TV series on the back of nothing. So we invested a shit-tonne (technical term) of our own (borrowed) money into taking an hour-long stage version of Foiled up to the Edinburgh Festival...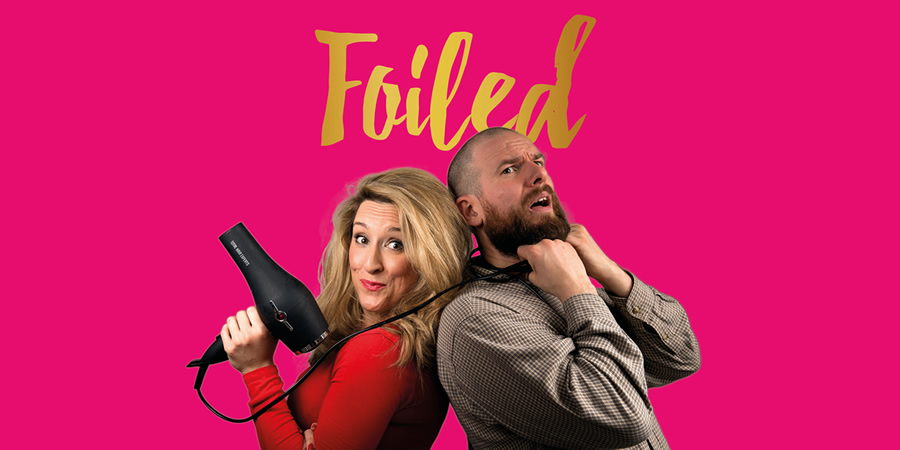 6. ... Before finally hitting the big time with BBC Radio Wales in 2017. The third series is available on BBC Sounds now!
Hopefully that's convinced you that there was a hell of a lot of failure ("learning") before there was a success. But as well as persistence and hard work, there are a few other things that we reckon really helped with getting our first commission from that Edinburgh show:
a) Foiled has always been a site-specific piece. This was originally because of our penurious position: it is much cheaper (and more convincing) to borrow a real hair salon than it is to hire a theatre and fill it with expensive props. Putting a show on in a working hair salon was also a great USP for our PR.
b) Talking of which... We skimped and saved on every part of the production except PR. Best decision we could have made because we got some really good press, which was enough to convince BBC Radio Wales that we weren't complete chancers. Without paid PR there is no way that The Scotsman or The Stage would have sent reviewers to the show. Foiled would almost certainly have sunk without trace, and we wouldn't have the careers we have now.
c) Collaboration has always been very important to the show. Our director was the marvellous Tom O'Brien and we were lucky to snag him just before he disappeared off to the glitz and glamour of the West End. Writing a funny script is only the foundation of the work; the director and the actors are hugely influential in whether the work stands or falls. Many of the comedy choices that were first made in the rehearsal rooms at the London Welsh Centre on Greys Inn Road are still integral to the world of Bleach For The Stars more than three years later.
You can read more about the 'stage to sounds' journey of Foiled on David's blog: How to get a BBC Radio Comedy commission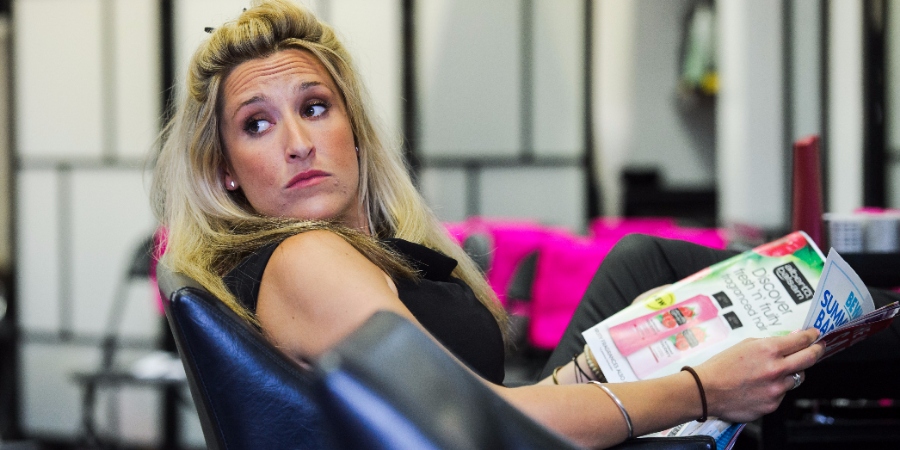 What have you learnt in the process of adapting the format to work on the radio?
You've got to find creative ways to give information. We enjoy the freedom of radio but miss being able to say many things with a look.
It is much easier to source a sound than it is to source, for example, a samba band atop a carnival float on Dunraven Street. That gives us the freedom to write almost anything.
On radio, actors can double up on parts in a way that would be totally unconvincing on stage. For example, Garnon Davies does scene-stealing turns as both Frankie and Tariq on the radio and which of these characters to keep is one of the agonising hypothetical choices we'd have to make if Foiled was ever made for TV.
Radio is also relatively cheap. With astronomical accommodation costs, we simply couldn't afford more than 3 actors for the Edinburgh show, but this series on Radio Wales we even recruited members of the studio audience to join in on the crowd scenes.
In terms of scriptwriting, we've got a lot tighter with our structure. It feels like our 28-page radio scripts have all the action of the 60-page stage show, but with all the guff taken out. The stage show was an hour of real-time continuous action, whereas on radio we make much more use of cuts and 'time passing'.
One of our favourite (awful) reviews of the Foiled Edinburgh show described the plot as 'characters often just shooting the breeze' - a comment that still makes us laugh and we use whenever we need to remind ourselves that something new needs to happen every couple of pages.
Does it become easier to write the show as you get more series under your belt, or does it become harder to think up new premises/jokes?
Beth: I think new and original premises become more challenging to think up as the series go on, but we know the characters so well now that we know how they'd react to every situation, and it's for this same reason that we both feel the jokes get easier every series.
David: After three series, we feel more relaxed about the writing process so - even if it's not technically easier - it feels like it is because we're less stressed.
During the writing of Series 1, I remember feeling that with each successive draft Episode 4 was getting worse rather than better, the plot disintegrating before our bloodshot eyes. I was absolutely desolate and, if Beth hadn't been there to pick up the pieces, I think I might have shared a bath with the exposed wire of one of our prop hair-dryers. Now I think we're much more comfortable with that feeling. Panic is part of the process.
While writing Series 3, I think I only felt that sense of impending doom once and we responded by working really hard on the problem. Much more practical. None of this should come as a surprise, by the way: if you practice something for 3 years then you'd hope to get better at both the technical and mental aspects of the work.
How do you write the show, when working in a writing partnership? Do you take it in turns to do passes on the script, or is one of you the 'room pacer' whilst the other types?
Beth: I'm very much the pacer! Partly because I eat more snacks so need to burn more calories.
Both: We use the free version of Celtx, which is an online script-writing tool. It means that we can work on the script separately and the changes will save in the cloud. It's very clever and only occasionally makes us think that we've lost everything.
This year we did more work apart than we have done in previous years, partially because we were living in different cities and partially because we have far more confidence in ourselves as writers than we did in the early years.
Once we've agreed the vague storyline of an episode, it's mostly a matter of typing until it's finished. We both know the characters inside out by now and so as long as we more or less know what's going to happen to them, we can judge their reactions and come up with funny lines. It's rare that one of us writes something that seems out of character to the other.
This might sound like a bit of a cop-out, but it masks the hard work of comedy writing: knowing your characters inside-out. Almost anything can be a storyline when you have strong characters that you enjoy writing for. In fact, in sitcom, the best plot ideas are often so simple that they look like almost nothing on the page.
We usually work on two scripts simultaneously. After we've done some typing on our scripts, usually 3-10 pages in a good session, we'll swap over and read what the other has written, adding in jokes, and writing on another few pages, using the noise of the kettle to mask the quiet deletion of each others lines before they take the script back and promptly add them in again. When it's working, it feels very easy. Smug, but true.
It's important to mention the third brain behind our writing process: Rubber Chicken producer Tom Price. We use him as a sounding board for all our ideas and, as a genuinely funny man in his own right, he often comes up with toppers, twists and ways to tighten up the story.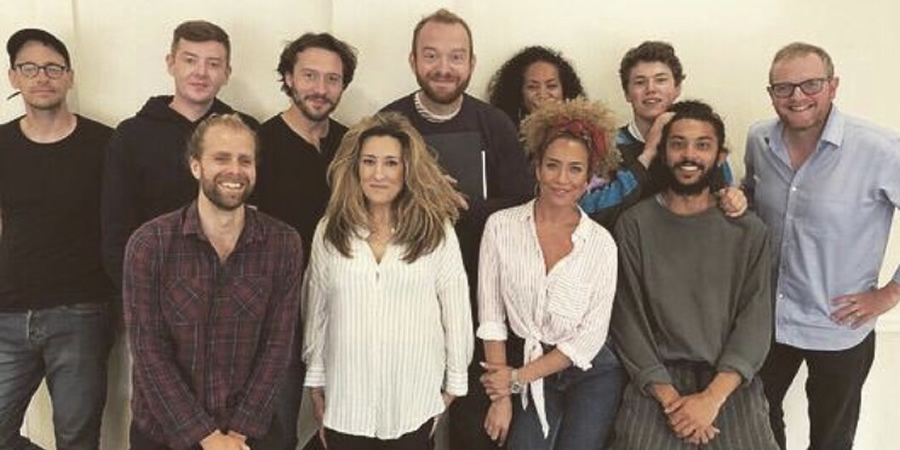 Can you give us an idea as to how long it takes to write, from start to finish?
Beth: I lose track of the amount of drafts. Dave doesn't, he has a spreadsheet for EVERYTHING. Over to Dave...
---
The following is taken from David's blog: What does it take to write a BBC radio sitcom?
Foiled was re-commissioned at the end of 2018. The first mention in my diary of any writing comes in mid-February. We were slow to get started, basking in the glory of a commission, putting off the actual labour.
The first thing to say is that the writing process this year was somewhat unusual. We were commissioned for four episodes, but we recorded them in two parts. The first three episodes were recorded on 8 June in front of a studio audience in Cardiff, the fourth was recorded a month later without an audience in a studio in London.
We put off the fourth completely until after the first recording. Denial is an integral part of our writing process.
By mid-February we'd already got the broad ideas for the first three stories: something about a work exchange, something about hedgehogs, and something about a cash and carry. It's not a lot to go on.
We really started working on the first three scripts from the beginning of March, with ten days together in London. By the end of this spell, we'd pulled together the 'beats' of each of the episodes, and run them past the producer with mixed results.
The ten weeks through the rest of March, April and May were mostly spent working separately, with increasing dedication.
By the end of April, we'd sent the producer first drafts of two of the episodes. The third episode follows in early May. The producer sends us notes. We tear our hair out in gratitude.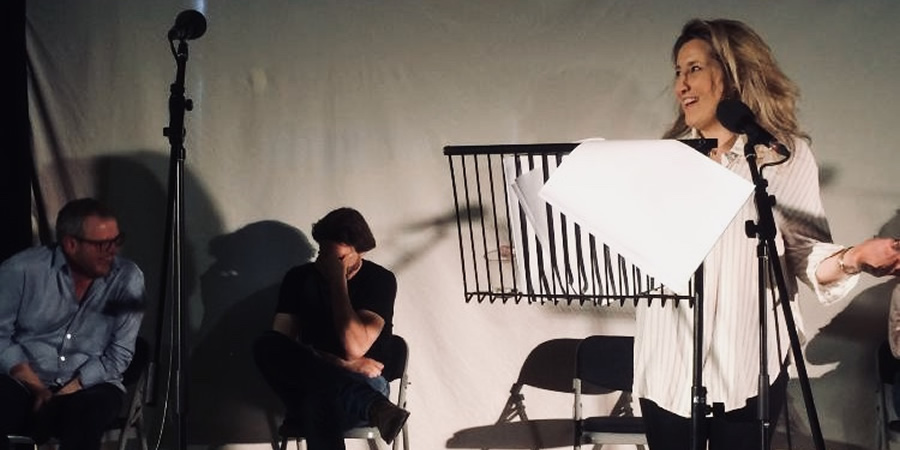 Every year, our producer pulls together a motley crew of comedy writers to help us 'punch up' the scripts in two days of writers' rooms. The week before the writers' rooms, we send the producer what we think will be approximate working drafts. We're wrong, for two of the episodes at least. Frantic re-writes ensue.
The two days of writers' rooms at the end of May give a burst of energy to all three scripts. Which is handy because we only have 9 days before the recording.
A hangover the day after the final writers' room doesn't help, but long days mean that by the Monday before we record we can send the producer what we think are two finished, record-worthy scripts - Episodes 1 and 4.
Again, we're wrong about one of them - something we realised only on the Thursday, two days before recording.
In the meantime, we go over the final script - Episode 2 - with a fine tooth-comb, tightening the nuts and bolts of the story and turning place-markers into zingers. We send it off on Wednesday morning in a blaze of emotion.
That night, we re-read Episode 4. After two days' creative distance, and having raised the bar with our work on Episode 2, we decide that the mid-section is completely wrong. One of the characters is just floating along and a pair of titanium toaster tongs appear at the episode climax for no discernible reason.
It's not just the amount of work needed that's a concern. The scripts have already been sent to the actors and the sound engineers have already done the work needed to make sure all the SFX are in place. A new script for Episode 4 is completely out of the question.
So on Thursday morning, we started working on the re-working, and Beth joked to the producer that she'd pull out of the project if he didn't accept the new script. Thank god he agreed.
For those of you interested in a more detailed breakdown of the process, the first two weeks of March involved about 8 hours per week of script-writing. We stepped up script-writing to about 11 hours a week for the seven weeks from the beginning of April up until the week before the writers' rooms at the end of May. For the last three weeks we did almost nothing other than work on Foiled: more than 20 hours a week on script-writing alone.
Three episodes of a radio sitcom took us about 150 hours of pure script-writing, plus plenty of other work behind the scenes on story-writing and talking things over with Tom the producer.
---
After David published this breakdown on his blog, a fellow writer of radio sitcoms got in touch to share his data. In terms of hours, we were reassured how similar they were: he and his writing partner take 55-65 hours per episode.
Where we differ is on how spread out those hours are. We spent about 74 days working on Foiled since the beginning of March; my correspondent and his writing partner cover similar ground in only 40-50 working days. But they do have 30 years' writing experience on us!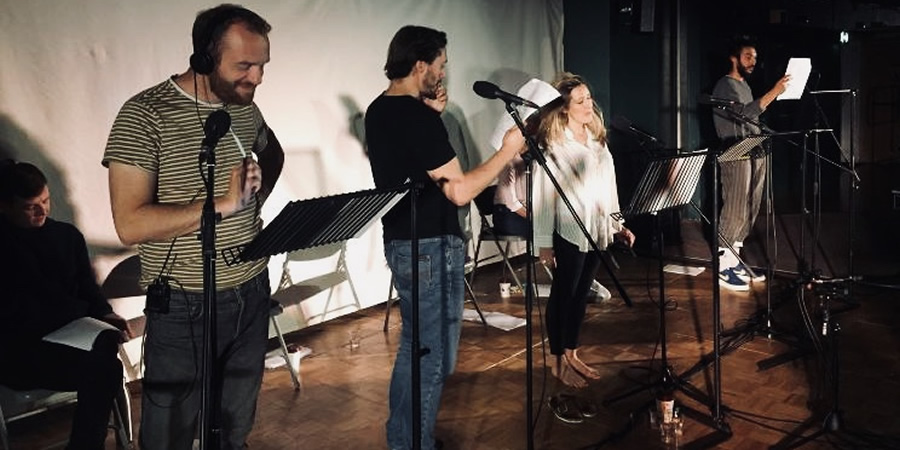 After the frantic whirlwind of writing and recording the first three episodes, we had only a month to write the fourth. That quickly turned into only two weeks due to a combination of basking and faffing, but by this time we were in our groove and the 50 hours were pumped in and what we reckon is a great script came out the other end. Phew!
Your show has a warm heart. Would you agree for a sitcom to be successful it's got to be about more than just jokes?
Beth: I think so. I just think you need to care about the characters and what happens to them. Sitcom characters can be horrendous people but you still need to care about them and their world. I really wanted Alan Partridge to get a second series and I really wanted Richie (Rik Mayall in Bottom) to pull a bird. I think most sitcoms deal with a family of sorts and with every family, you get tension but you also get heart.
David: Just jokes gets a bit boring after a while, doesn't it? Very few writers do just jokes, even stand-ups often write a theme or a thread or a through-story. People tune in because they want to dip into the world of Bleach For The Stars and hear what Sabrina has been up to in the last week. People tune in because they know it's going to be a fun half-hour, but that all starts with character. As writers, too, warmth is much more interesting to write than just jokes.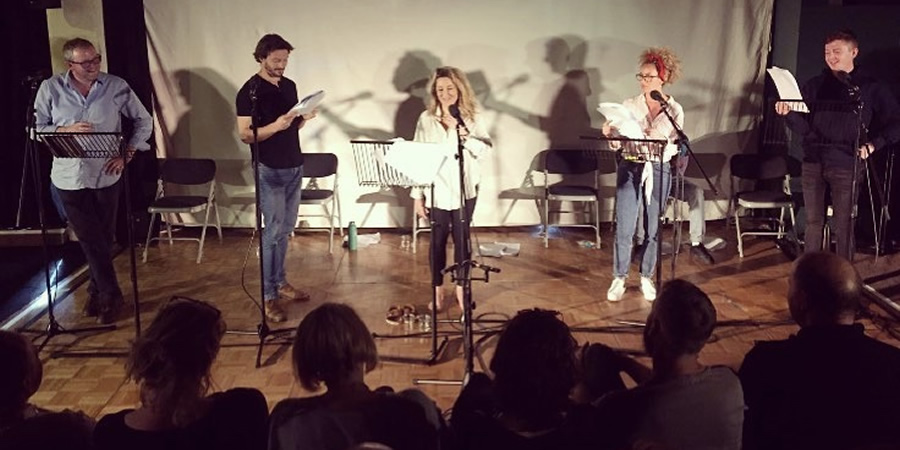 What are your top tips for someone thinking of trying to write their first sitcom?
Both: Write for yourself and your own enjoyment, write characters you love in a world you are familiar with.
Think about writing for theatre before TV, it is a great testing ground and much easier to put it on, see your work on its feet. The only reason that we've had the opportunity to get better as comedy writers is because we've put our writing on the line. When we were churning out the speculative TV, radio, theatre and webisode scripts, yes we were learning about the characters and the world, but not nearly as urgently as we could have been because nothing was at stake.
As soon as we committed to Foiled at the Fringe we knew that we would have a month of facing audiences. If the script was shitty, then boy would we know about it. Putting our work on the line raised the stakes and gave us a terrifying need to get better.
The three BBC Radio Wales series have poured fuel onto the fire. There is no greater motivation than the fear of thousands of people listening to your show and not laughing. Commit to deadlines, commit to other people, make friends with directors and actors and producers, throw yourself to the mercy of a live audience and put your work into the arena.
Collaborate with people, get notes from people you trust, have it read out by actors. If you're London based, London Comedy Writers is a great place to start.
As a guide, at least 16 people worked on Foiled in 2016 alone - and that's a very low estimate, by the way. Our point is that none of this would have been possible without a lot of collaboration, sharing our work with others and opening ourselves up to vital criticism.
It's no coincidence either that we met on an Arvon Foundation comedy writing course. We are both dedicated to learning how to write more betterer. Open your work to criticism, listen and re-write.
Oh and by the way, thank god we didn't get that 2014 radio commission or fluke the 2015 TV pitch - Foiled wouldn't have been a quarter of the show it is today.
At this stage, do you already think ahead to a possible Series 4, or do you wait to find out you've got a recommission before allowing yourself to have further thoughts?
Beth: Can I have a fourth series?
David: I haven't given another series a single thought. The logic of commissioning is so mysterious that it's not worth over-investing until the time is ripe. But if we are called upon once more, then I'm sure Sabrina and the team are gagging to tell us all about what's been going on since we last visited Bleach For The Stars.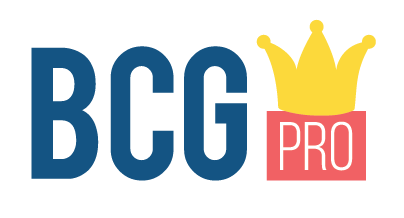 Enjoyed reading? This article is provided as part of
BCG Pro
. For much more like this, including premium articles, resources, tools and services,
find out more and subscribe
.