When The Screaming Starts is a comedy-horror mockumentary telling the story of an aspiring serial killer, Aidan Mendle, and the documentarian who follows him on his journey. It was filmed in 2020 and has recently received its world premiere at FrightFest. Co-writer and star Ed Hartland explains how they made the project...
A few years ago, I was reviewing The Ted Bundy Tapes for the London Horror Society. I was appalled and disturbed by the content, but I couldn't look away. It was horrifying and fascinating in equal measure. What did this say about me? What did this say about everyone else who was watching it and all the other true crime documentaries out there?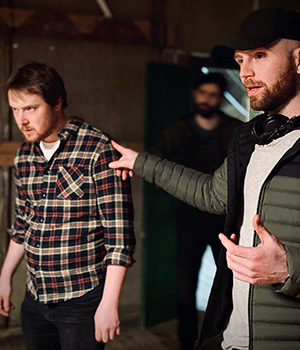 A couple of months later, I was discussing various ideas for projects with Conor Boru, a director and actor I trained with at ArtsEd drama school. The idea for a short riffing on the idea of true crime documentaries came up in our conversation. Unlike The Ted Bundy Tapes, this would focus on someone who wanted to be a serial killer, interviewed by a wannabe Louis Theroux.
I left Conor, to go for a meal with the cast of a theatre show I had worked on a few months previously. On my way across London I kept getting ideas for this short. By the time I reached Ravenscourt Park, I knew this could be a feature film.
Conor ended up gate-crashing this cast meal and we spent the majority of the time talking about this potential feature. I scribbled all the ideas down on scraps of paper and that weekend I wrote the first draft of what would become When The Screaming Starts.
After a few redrafts and read throughs, Conor came on board the film as the director and co-writer. Something Conor was keen to explore thematically was the idea of ambition and the lengths which people will go to in order to achieve it. Aidan's ambition is a disturbing and unusual one, but the pursuit of ambition is something that we can all relate to - although I would hope most people harbour less murderous dreams than Aidan...
Over the next eight months we developed the script, the characters and the world of the film alongside another actor Conor and I were at drama school with, Jared Rogers. As well as playing Norman, our wannabe Louis Theroux, Jared joined us as a producer for When The Screaming Starts.
As is the nature of independent filmmaking, the three of us wore a number of different hats through production - best highlighted by Jared collecting cast members in Norman's camper van, while dressed in costume.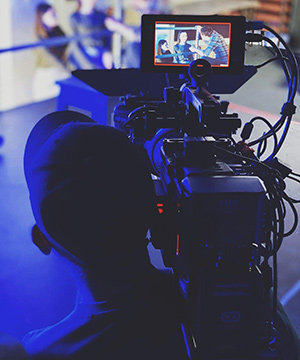 It wasn't long into the script development that we knew this was going to be a bigger production than we had first thought. The cinematographer who had worked on Conor's last two shorts, Adrian Musto, was looking to work on his first feature film and came on board.
Not only is Adrian a fantastic DOP, but he brought with him a wealth of experience in shooting documentaries and his RED - meaning the footage was going to look fantastic. The camera resembles a miniature tank and since the RED spent most of the time on a shoulder rig (which made Adrian resemble a Xenomorph cinematographer) he needed a camera assistant - although, to be clear, Joshua Bosley and James Burns did a lot more than just hold the camera to give Adrian's poor back a break!
This growth was reflected in all aspects of the production and, for our biggest set piece in the film, we had 30 people on set (a world away from the scale we initially thought we would be dealing with) - very useful when you're shooting a scene which requires fake blood to fly; always a spare pair of hands to hoist the blood shield (a twelve foot high barrier constructed from flattened cardboard and duct tape... so much duct tape!).
From our days at drama school (and after), Conor, Jared and I have developed a great network of really talented people that we love to work with. This was incredibly useful when it came to casting the ensemble at the heart of our film; the weird and wonderful misfits who populate the murder cult Aidan sets up.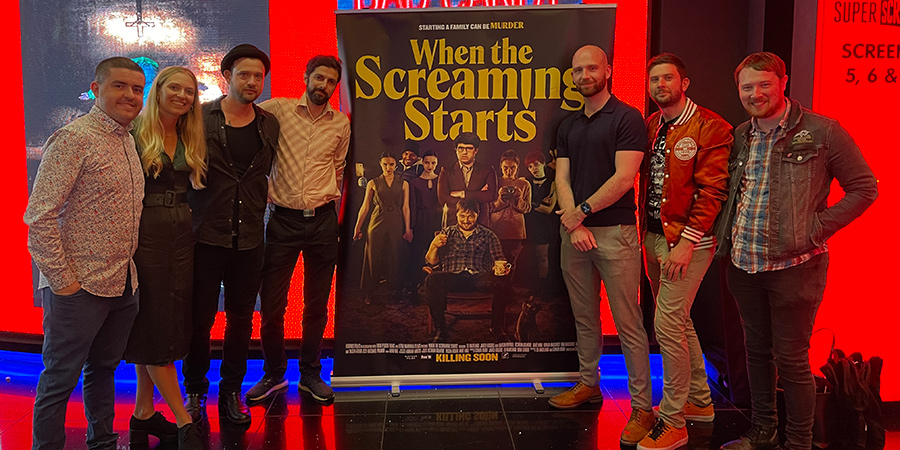 When we had our premiere at FrightFest, one of the organisers, Ian, spoke at one of the Q&As about how one of the stumbling blocks to low-budget independent films is the quality of the casting. We are incredibly lucky to know a host of brilliant actors and were able to build characters around them.
We could draw from a pool of actors that included Octavia Gilmore and Kavé Niku. Not only did they deliver great performances, but they came on board as executive producers and helped us drive When The Screaming Starts forward.
Occasionally we did have to stretch outside our circles for casting. Finding a pair of actors to play the twins, Viktoria and Veronika, for example. This did raise the question among ourselves: why we wrote identical twins into the script when we didn't know any?!
Yasen Atour (look out for him in Season 2 of The Witcher) was cast as one of the prospective members for the cult Aidan sets up (in the vein of the Manson Family). We've known Yasen for a long time and it was through him that we met Kaitlin Reynell. Yasen runs an acting for screen course called Film Club (I highly recommend it) which Kaitlin had been on and he suggested we get her in to audition for the role of Claire (morbid photographer and Aidan's girlfriend). For a very bubbly person, Kaitlin created an incredibly creepy version of the character and knowing that Yasen trusted her enough to suggest her to us meant that we knew she would be able to fit in with the rest of the team.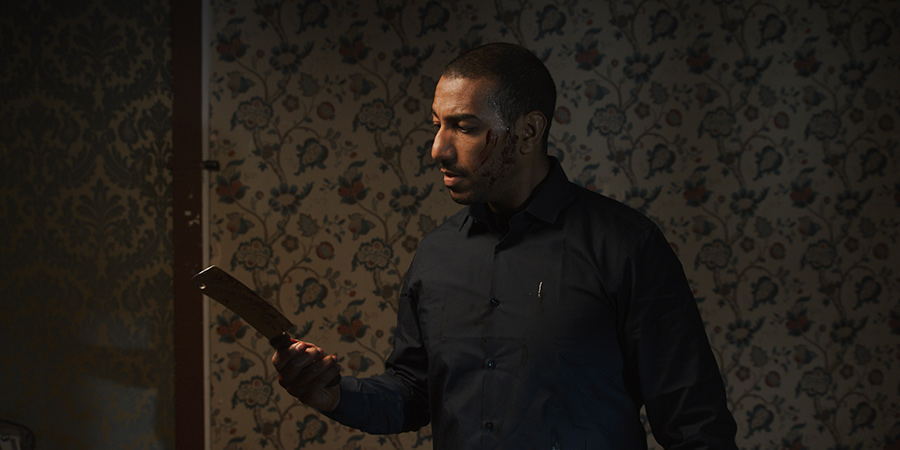 Our first block of shooting was in January 2020 and, at one stage, there was discussion about pushing it back a little bit... I don't think I need to say how glad we are that we didn't do that. When the world ground to a halt due to COVID we had the bulk of film in the can.
We had always been planning on a follow up block of filming, but instead of a short gap, we had to wait eight months before we could arrange a further six days of shooting (slipping in between national lockdowns). The second block of shooting felt like it took place in a completely different world. We reduced the number of people on set down to the bare minimum, set up sanitising stations, checked temperatures on arrival, all the fun and games that come with filmmaking during a pandemic.
The longer-than-expected break between blocks of filming meant that we were able to take a step back and decide that we wanted to delve more into the backstories of the characters. I know we're all really proud of how the second block of filming has enriched the overall film and given us the opportunity to bring characters to the fore, giving them space to breathe.
Post-production was a strange experience with a lot of the work taking place remotely. Some of this was due to the Atlantic Ocean rather than COVID as our wonderful editor, Alan Rae, is based in the states, but further lockdowns and the looming shadow of COVID definitely provided difficulties we hadn't foreseen when we first discussed making this film.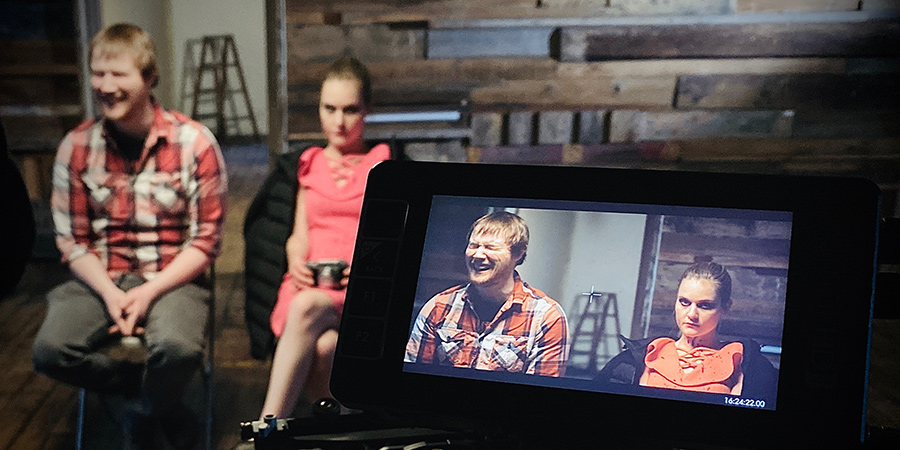 Making When The Screaming Starts has been a challenge. One that I know Conor, Jared and I have enjoyed. A lot of the producing side of things we were learning on the job and, without the help and dedication of a more experienced producer, it would have been like trying to find our way through a maze with blindfolds on. Dom Lenoir, a filmmaker and producer, was brought on board by Conor and his expertise and guidance has been invaluable.
Ideas have had a habit of snowballing when it comes to When The Screaming Starts; a throwaway gag about a metal band became a full blooded track called Burn the Witch with an accompanying music video inspired by the best/worst black metal videos (the track's available to stream now); a market stall that was initially meant to be in a small car park became one in Portobello Road and laden with fish "fresh from the Thames" and a magic sauce that resembled jarred vomit. The stall looked like food poisoning on ice, but people actually tried to buy from us!
This concept of snowballing can be applied throughout the process of making this film. What started out as an idea for a short has become our debut feature film and premiered at the UK's largest horror film festival, FrightFest (and we have some other festival appearances lined up).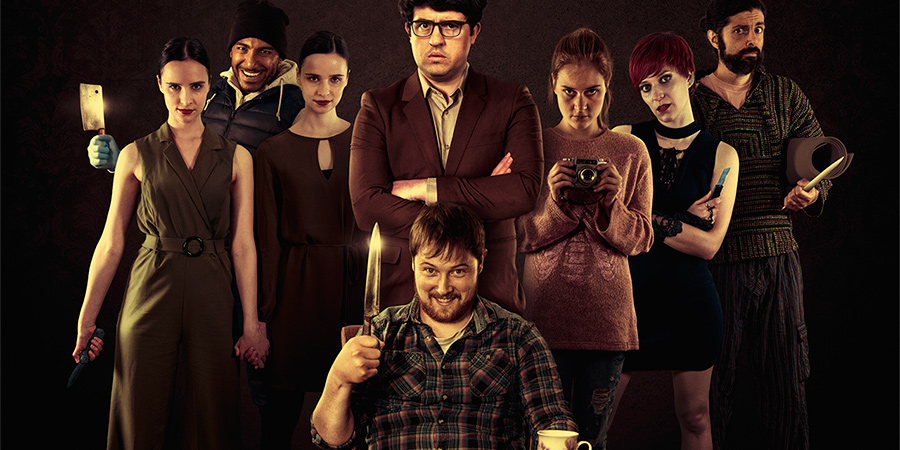 When I started writing this piece I spent a lot of time thinking about the question "How did we make this film?" and the basic answer is that without the help, generosity and hard work of everyone involved, we wouldn't have been able to. We're immensely grateful for that.
After our premiere at Frightfest, Yasen was asked about the difference between working on When The Screaming Starts and Netflix shows like The Witcher and Young Wallander. His answer was that working on this film was working with family. Coincidentally, when Yasen said this, I got some dust in my eye (I'm not crying, you're crying). Apart from being a touching answer, it's the truth. We're a filmmaking family who have made a film about a Manson-esque family - but before this piece about a serial killer mockumentary becomes too sentimental let me leave you with the tagline from our poster:
Starting a family can be murder...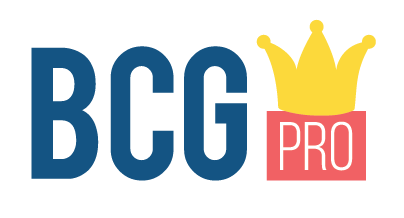 Enjoyed reading? This article is provided as part of
BCG Pro
. For much more like this, including premium articles, resources, tools and services,
find out more and subscribe
.