Lucy Lumsden has been the BBC's comedy commissioner and Sky's Head of Comedy. Now, in the next chapter of her career, she is moving on to set up her own production company. Here is a slightly updated version of the speech she gave at The David Nobbs Memorial Trust Dinner on the 9th April 2016, as part of the Craft Of Comedy Writing Conference.
The speech pays tribute to David Nobbs, one of Britain's finest comedy writers, who died last year. Work is now underway to setup The David Nobbs Memorial Trust, which will help nurture new writing talent. As you'll discover, Lucy's speech also focuses on the health of British comedy and some of the key things she's learned whilst working in the industry.
---
Given that I've recently 'done my own Reggie Perrin' (ground down by corporate life working in Sky Sunshine Deserts, I've quit to set up on my own) it feels very appropriate to be speaking to you in memory of the late, great David Nobbs before I run naked into the sea.
I was lucky enough to have worked with David at the BBC some years ago. I behaved like a terrible gushing fan, thanking him for giving us Perrin and A Bit Of A Do and his writing for The Two Ronnies, Les Dawson, Ken Dodd, Frankie Howerd, Tommy Cooper, Kenneth Williams and, of course where it all started, That Was The Week That Was.
These were all shows I grew up watching, so here I was meeting one of my comedy heroes. As a kid growing up in the 70s, we would unite as a family and as a nation on the sofa laughing at the same characters, hearing the same lines at the same time, then sharing them with your mates the next day. And there I was meeting the man who made it all happen and pretending it was just another day in the office.
I've spent the week re-reading David's excellent autobiography which, if you haven't read, you should. He didn't just fall into comedy - it was a hard long slog full of rejection. He almost gave up, but he finally got his break, and how lucky we are that he persevered.
David was genuinely as funny in real life as you'd hope he'd be. He was always coming up with fresh ideas, he was collaborative, dedicated, he paid huge attention to detail and underpinned everything with truth.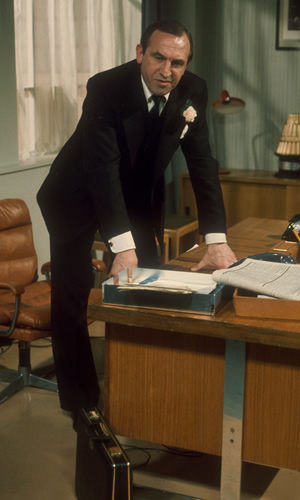 Along with David, we've lost some wonderful people from the world of comedy over the last few years: Robin Williams, Garry Shandling, Joan Rivers, Rik Mayall, Ronnie Corbett, and just this week the supremely gifted Victoria Wood, to name just a few. Each loss feels such a wrench as we feel close to these people, whether we've actually met them or not. I think it's because comedy produces this very peculiar physical response called laughter which rattles our bones, those laughs gets stored in our memory banks... it goes deep, it's like music in that way.
And comedy makes a huge impression on us, especially when we're young. Whether it's Perrin, or The Young Ones, or Little Britain or Miranda - when people make you laugh you want to join their fan club, own a piece of them, quote them, imitate them. Quote them again, probably badly.
These comic icons didn't just act funny, they bore their souls and gave us a bit of themselves. That's why I love comedy, it's deeply personal, it can say so much about us as a nation, help us understand ourselves a little better, it lets a little air out of our cultural and social pomposity... Oh and it cheers us up at the end of a crap week. It's endlessly fascinating, as a culture we are very good at it, and it is something to preserve at all costs.
And that's why things like this - the David Nobbs Memorial Trust - are so important to support the next generation of comedy writers who will give us the next bunch of iconic characters. They need to be valued much more than they are.
I've been lucky enough to exec and commission comedy for the last 16 years despite starting my career in a brothel. Yes, the smelly offices in Berwick Street - with one mouldy loo - was home to The Comic Strip, where this young bright eyed Art History graduate asked in her posh little voice why was there a small sink in every room? Thankfully it didn't put me off.
I've worked for the BBC and Sky, two very different cultures. With the BBC, part of my job felt more about respecting the past and holding on to the crown jewels and not doing things like mistake the first finished episode of The Royle Family for the rushes (yes, that really did happen, but not by me thank god). Or hearing the BBC Two controller debate whether she should commission The Office as that year we'd just had an audience sitcom on BBC One called Office Gossip. Would the audience get confused?
Launching comedy at Sky came with different challenges - Sky at first didn't feel a natural home for comedy and its retail culture meant that you weren't allowed to ever miss a target. But Sky has a very anti-establishment gene and a pioneering spirit which I found very liberating. I was given a lot of creative freedom thanks to Stuart Murphy being Stuart Murphy, and we in turn could pass this sense of creative freedom to the talent that came our way.
And despite the accountants and marketeers telling us otherwise, it seemed to work. We balanced the books by having enough hits to get away with the occasional miss, and anyone who works in comedy has to get used to that. I'm very proud of what we achieved.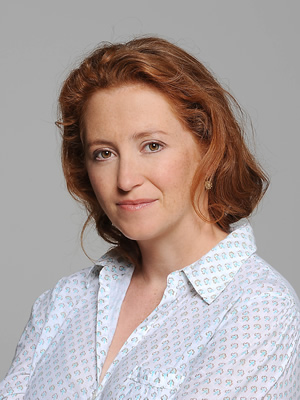 I'm really excited by what the future holds. My own "running naked into the sea" moment has given me the chance to reflect on the key things I learnt along the way, which go something like:
- Seek out strong creative partnerships and treasure them.
- Create, don't imitate.
- Learn from criticism and rejection, don't get bitter.
- Don't let the choppy waters get to you.
- Work very hard, but don't forget to have a lot of fun along the way.
New avenues are opening up all the time and the sands are constantly shifting so it feels hard to keep up. We just need to not fear the new, and try to understand the possibilities of these platforms a bit better. There are many more outlets for your work and it's possible to create content very cheaply now to get it off the page. Look at Mid Morning Matters - funny's funny.
Be aware of the changing TV landscape and pitch into that, not what's gone before. Fresh thinking, distinct voices, original ideas, and - crucially - ideas with international appeal, like Episodes and Catastrophe, are at a premium.
When we read for the umpteenth time that this is a golden age of Drama, us comedy lot should all feel immensely proud of the quality of the authorship coming out of Britain right now. I've recently greedily devoured The Night Manager and Happy Valley. These series are putting us on a global stage and that is fantastic for our industry and our reputation.
OK, they may not quite rattle your bones the way comedy does, but I trust that humans need a varied diet. Viewing habits go in cycles. To stay distinctive, Drama needs Comedy, and Comedy needs Drama. We should learn from Drama's success and be inspired by it.
So, to all the future David Nobbs' out there, I reckon there's never been a better time to be a writer.
And when people say it's a golden age for Drama, what they really mean is that it's a golden age for Scripted - great characters, great stories and, if it makes the audience laugh, then all the better.
Scripted is where the money is, it's where the appetite is - now it's time to make our mark.
---
Lucy's new production company is called Yellow Door Productions. Find out more
The David Nobbs Memorial Trust will be launched later this year. For updates follow the Trust on Twitter: @NobbsMemorial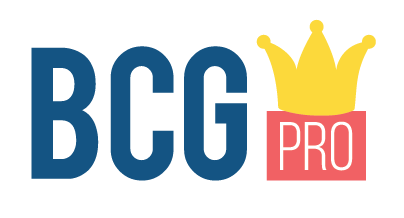 Enjoyed reading? This article is provided as part of
BCG Pro
. For much more like this, including premium articles, resources, tools and services,
find out more and subscribe
.