The Big Comedy Conference DVD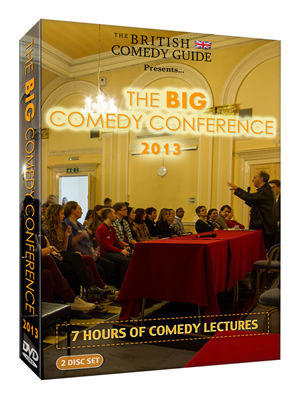 This must-own 2-disc DVD set packs in seven hours of lectures from some of the best names in the business, as seen at our hit 2013 Big Comedy Conference.
Alongside widely-praised keynote interviews with Al Murray and Jo Brand, you'll receive invaluable, inspiring information about writing for children; working for radio; the Holy Grail of sitcom; and panel shows. There's also a highly informative discussion about how to get an agent, one of the biggest questions faced by new comedy writers and performers.
As well as writer-performers Brand and Murray, you'll find contributions from John Finnemore (Cabin Pressure), ITV commissioner Claire Zolkwer, prolific writer-producer Bill Dare, Head of BBC Radio Comedy Jane Berthoud, writer Ivor Baddiel, top agent Vivienne Clore, performer Howard Read, former BBC executive Micheal Jacob, Horrible Histories producer Caroline Norris, writer-performer Alex Lowe, presenter Mark Dolan, writer Mellie Buse, The Sitcom Mission's Declan Hill, producer Paul McKenzie and Pozzitive's David Tyler.
The full contents is:
DISC 1
- Jo Brand (in conversation with Stephen Follows)
- How Do I Get A Producer / Agent? (with Caroline Norris, Bill Dare, Vivienne Clore)
- Audience Sitcom (with Andrew Ellard, John Finnemore, Micheal Jacob, Declan Hill)
- The Panel Panel (with Claire Zolkwer, Ivor Baddiel and Mark Dolan)
DISC 2
- Al Murray (in conversation with Andrew Ellard)
- Who Needs Pictures?, the radio talk (with Paul Bassett Davies, Jane Berthoud, David Tyler and Alex Lowe)
- Writing For Kids (with Howard Read, Mellie Buse and Paul McKenzie)
Purchase the DVD
The DVD costs £20 (including P&P). You can buy the DVD direct from BCG:
Or, alternatively, you can purchase via Amazon:
Share this page