Saturday 30 November 2013. London.
The first Big Comedy Conference was a day of lively talks and workshops in November 2013, tailored by British Comedy Guide to arm writers and performers with the knowledge and tools to help them make it in the British comedy industry.
Over the course of the day, we covered everything you needed to know about becoming a comedy professional across writing, performing and producing. The conference was packed with talks, networking and pitching sessions, rounded off by a bar and live comedy gig in the evening. People got their questions answered, made useful contacts and equipped themselves to begin earning a living from the craft they love.
There were over 40 speakers in total, with Jo Brand, Al Murray, David Nobbs, Arthur Smith, Gary Delaney and John Finnemore amongst those sharing advice. Scroll down for a full list of speakers and sessions.
The day was a big success, with some very positive feedback received by those who attended. Comments included "What a belting event that was";"I had an absolutely fantastic time, the highlights for me were David Nobbs, the 'You Gotta Have Jokes' session and feedback on a script I'd written";"Thanks very much for the inspiring conference. It was great to hear from leaders in the field"; and "It far exceeded even my wildest expectations!".
2013 DVD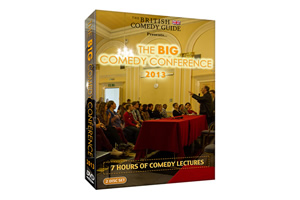 Some of the talks from The Big Comedy Conference 2013 are available to buy on DVD.
Alongside the widely-praised keynote interviews with Al Murray and Jo Brand, the DVD contains invaluable, inspiring information about writing for children; working for radio; the Holy Grail of sitcom; and panel shows. There's also a highly informative discussion about how to get an agent, one of the biggest questions faced by new comedy writers and performers.
---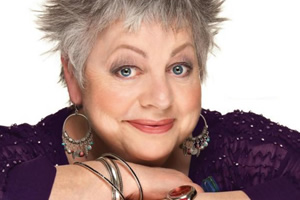 9:30am - 10:30am: Jo Brand
Jo Brand in conversation with Stephen Follows. Jo talked about how she has worked across the spectrum of comedy over three decades, and used her experience of Getting On to explain the process of creating a sitcom from the first ideas through to the final series.
---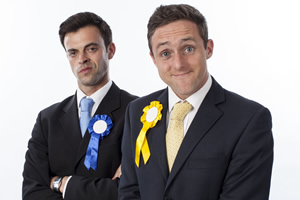 10:45am - 11:45am: First Set of Talks
TALK 1: How Do I Get An Agent? Get A Producer (Main Room): Most writers starting out want to know how to get an agent, and top talent boss Vivienne Clore explained how - but she was also joined by Caroline Norris and Bill Dare, two producers with a massive raft of credits between them (Horrible Histories, The Now Show, Armstrong & Miller, Dead Ringers and more) who talked about working with producers. Hosted by film producer Stephen Follows.
TALK 2: Writing For Kids (Room 1): Hosted by Howard Read, creator and star of the award-winning CBBC show Little Howard. He discussed how to write AND perform for children. Joining him was one of our most prolific writers for children, Mellie Buse, whose credits include Grandpa In My Pocket and Charlie And Lola. Plus Paul McKenzie, the writer-creator-producer of loads of hit CBBC shows including Dani's House, Sadie J and Kerching.
TALK3: Have We Got Topical Comedy For You (Room G): Stars of The Revolution Will Be Televised, Jolyon Rubinstein and Heydon Prowse, talked us through the making of their brilliantly original show. Host and leading topical writer Dave Cohen interviewed them, and offered advice for writers and performers who want to work on topical shows.
---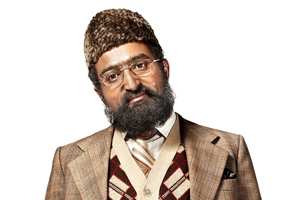 12pm - 1pm: Second Set Of Talks
TALK 4: Creating The Universe. How To Make A Sitcom (Main Room): Citizen Khan star and creator Adil Ray talked about how he turned his comedy character into a sitcom creation. Bad Education writer Freddy Syborn and Pete Sinclair (Lead Balloon) joined him and host Danny Stack to talk about characters, plots, dialogue, and inventing a world for your sitcom.
TALK 5: Who Needs Telly? (Room 1): Our first discussion of how the internet is opening up new ways to make comedy was hosted by David Schneider who runs the Huffington Post's Topicalol site. There was loads of advice about how to make an impact on the web from alternative comedy guru John Fleming and YouTube star Jenny Bede too.
TALK 6: So You Wanna Be A Stand-Up (Room G): Excellent first hand advice from top stand-up Sara Pascoe about how to survive and then thrive on stage. Plus sound advice from one of Britain's top comperes and king joke writer Tony Cowards. Stand-up critic Bruce Dessau and promoter Geoff Whiting talked about avoiding the common pitfalls.
---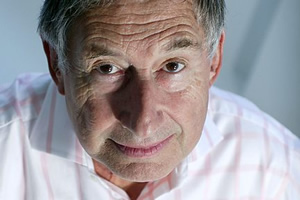 1pm - 2pm: Lunch & David Nobbs
Lunch was served in the refreshment room on the second floor, whilst in the Main Room comedy writing legend David Nobbs took part in an informal Q&A. As well as creating the legendary Reginald Perrin, the late writer wrote for a host of superstar comedy acts, created numerous other TV shows and penned several novels.
---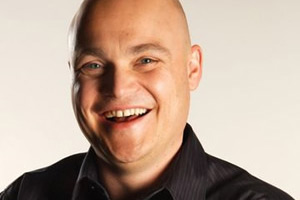 2pm - 3pm: Al Murray
Pub landlord Al Murray talked to Andrew Ellard about creating a character on stage, and how to keep long-running characters fresh through writing and performing.
---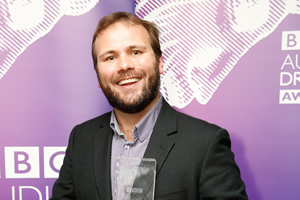 3:15pm - 4:15pm: Third Set Of Talks
TALK 7: Audience Sitcom - The Holy Grail (Main Room): Writer and star of the brilliant Cabin Pressure, John Finnemore talked to Miranda's script editor Andrew Ellard about writing for a studio audience - with excellent advice from former BBC Chief Script Editor Micheal Jacob. Plus advice on what to do with your live scripts from The Sitcom Mission co-producer Declan Hill.
TALK 8: The Panel Panel (Room 1): Head of Entertainment and Comedy at ITV, Claire Zolkwer, talked about creating formats for non-narrative comedy - panel games, variety shows, reality and prank formats - with panel show star Mark Dolan and top entertainment show writer Ivor Baddiel.
TALK 9: You Gotta Have Jokes (Room G): Mock The Week star and one-liner king Gary Delaney offered a wealth of tips for gaining maximum laughs, and was joined by sketch, sitcom, movie, all-round comedy writing guru Paul Bassett Davies.
---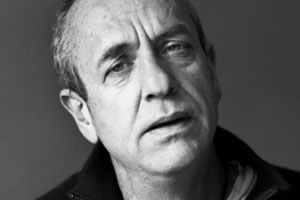 4:30pm - 5:30pm: Fourth Set Of Talks
TALK 10: Who Needs Pictures? (Main Room): They make more new comedy than the entire TV industry combined, so radio is a great place to start out. BBC Head of Radio Comedy Jane Berthoud explained what she's looking for, while veteran indy producer David Tyler (Little Britain, Cabin Pressure, Milton Jones etc) talked through the process of creating a show, while Alex Lowe - Barry from Watford - and Paul Bassett Davies (Reception) talked about writing and performing for radio.
TALK 11: Who Needs Telly, Too? (Room 1): Top comedian Tiernan Douieb explained how to make your own topical YouTube videos, with internet web series producer Danny Stack, Huffington Post Comedy editor Andrea Mann and podcast producer Ben Walker.
TALK 12: Edinburgh - Should I Stay Or Should I Go? (Room G): King of the Fringe, Arthur Smith, guided the audience through the best way to make an impact at the world's greatest comedy festival, with handy hints from comedy critic Bruce Dessau and club promoter James Woroniecki. Plus great advice from Peter Grahame of the King's Head about Edinburgh previews and help for new comics.
---
6pm - 7pm: You Pitch!
This session involved the audience pitching their ideas to a number of commissioners and producers, including Jane Berthoud and Absolutely producer Alan Nixon.
---
8pm: Evening Gig
A stand-up show featuring some of the deligates from the day. The show was hosted by top London compere Tiernan Douieb and featured a set from Tony Cowards.
---
Other Sessions
Sitcom / Sketch One-To-One: Whilst the talks with Al Murray and Jo Brand were going on, deligates had the chance to get feedback on their sitcom or sketch script from one of our script experts (various panellists offered up their time).
Stand-Up One-To-One: Feedback from stand-up director Chris Head on routines and stage craft.
See also: 2014 conference
Share this page