Chapter 108

Stone Clearing With Richard Herring: Chapter 108
Chapter 108 Quick Fand - It's approaching 6pm on 2nd October and most of you are heading for a night out on the town, but Richard is heading for a night on the Stocean wave to clear some stones in the rain. He will be warning of how you can get sucked off out here on a night like tonight, plus how improper wiping can give you fingers like an ardent stone clearer. So be warned. He pays the price for glory seeking like some kind of Bryan Bramble and ponders on what the Ditch that Ftopped Brexit might have saved us from.
Published: 4th October 2021. Length: 30 minutes. Size: 29mb
Next Stone Clearing episode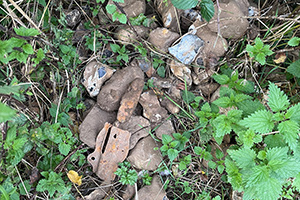 Date: 15th October 2021 Length: 27 mins Size: 26.2mb
Chapter 109 - Path of Conkerf. It's just before 5pm on 14th October 2021 and it's a fine autumn night to visit a freshly ploughed field to clear easy stones...