Frame 117

Me1 vs Me2 Snooker with Richard Herring: Frame 117
Frame 117 - Dog Chewed Reading Glasses. It's another frame of snooker, this time sponsored by Kevin Franklin. The moustachioed players (sponsor us at http://rhlstp.co.uk/movember) are both out for victory and there's so much hanging on the result of this frame. And there are several breaks of over 1 point to enjoy and some record breaking action.
Why not buy a copy of The Problem With Men at gofasterstripe.com with a free signed book plate and badge?
Or subscribe with Twitch in November to donate to Movember!
Published: 17th November 2020. Length: 41 minutes. Size: 18.8mb
Video
Next Me1 vs Me2 Snooker episodes
Date: 24th November 2020 Length: 51 mins Size: 23.7mb
SPECIAL Winter Tourney - Preliminary Round 1: Nothing Sinister. It's lockdown 2 and so it's the fourth tourney involving more Mes than Me1 and Me2. Never podcast before, but we're...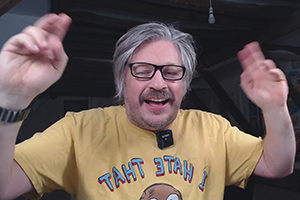 Date: 1st December 2020 Length: 57 mins Size: 26.3mb
SPECIAL Winter Tourney - Preliminary Round 2- Mama Mia My Pizza Is Ready. It's the second week of the preliminary round to decide which old and new players will be...