RHLSTP 184 - Alex Horne

Richard Herring's Leicester Square Theatre Podcast: RHLSTP 184 - Alex Horne
RHLSTP #184 Alex Horne - High-Fiving the Pope. Rich offers to fill a school library with books, before introducing the multi-talented genius behind Taskmaster and much more, Alex Horne. Find out what it's like to sit bare-arsed on a cake; the secrets of Tim Key's kindle; the respective amounts the pair spent on their last hair cuts; and whether the first rule of Taskmaster is you can't go on Taskmaster if you ask to be on Taskmaster. Plus who will win the battle of the Christmas books: Taskmaster or Emergency Questions... (the answer is Taskmaster); defeating a tea-pot coveting old woman on Countdown; and some stuff that's going to get the people of Chesham whooping (if they can get internet access).
Please support our podcast and our new sponsor by claiming your free beers (you just pay £2.95 p&p) at beer52.com/rhlstp
Published: 10th October 2018. Length: 93 minutes. Size: 128mb
Video
Next RHLSTP episodes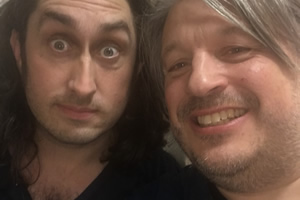 Date: 17th October 2018 Length: 70 mins Size: 96.7mb
RHLSTP #185: Ross Noble Harder on the Balls. SPOILER ALERT: Rich gives a big spoiler about the new Harry Potter plays which will be bad if you like Harry Potter,...
Richard Herring's Leicester Square Theatre Podcast - All Episodes