RHLSTP 183 - Jonathan Ames

Richard Herring's Leicester Square Theatre Podcast: RHLSTP 183 - Jonathan Ames
RHLSTP #183: Jonathan Ames - The Herring Wonder. It feels so long since we were last here, but Richard is glad to be back for Series 14, even if life in the countryside seems to be driving him to stone-based madness. His guest has come from across the Atlantic and a personal hero of Richard's, novelist and screenwriter, Jonathan Ames. Will Rich once again shame himself in front of someone he hopes to impress? Let's hope so. There are some marvellous tales of incontinence, food-poisoning and a great new sperm distribution invention (so business as usual). Plus who has come closer to death in the last 24 hours? How do you cope with 20 rejection letters? What happens when the bloke from The Hangover grabs your penis? Also advice on how to see incomplete Broadway shows for nothing, putting a 92 year-old woman to bed and a reading from the funny, semi-autobiographical novel, The Extra Man. Plus, at the finale, the author makes an extraordinary sound.
Please support our podcast and our new sponsor by claiming your free beers (you just pay £2.95 p&p) at beer52.com/rhlstp Please buy the new Emergency Questions book for yourself and all your family: gofasterstripe.com/eq
Published: 3rd October 2018. Length: 72 minutes. Size: 99.3mb
Video
Next RHLSTP episodes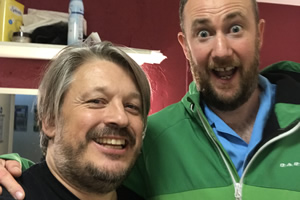 Date: 10th October 2018 Length: 93 mins Size: 128mb
RHLSTP #184 Alex Horne - High-Fiving the Pope. Rich offers to fill a school library with books, before introducing the multi-talented genius behind Taskmaster and much more, Alex Horne. Find...
Richard Herring's Leicester Square Theatre Podcast - All Episodes