RHLSTP 179 - Desiree Burch

Richard Herring's Leicester Square Theatre Podcast: RHLSTP 179 - Desiree Burch
RHLSTP #179: Desiree Burch - Do the Hokey Cokey. Rich muses on passports and the fruition of John Moloney's aged comedians TV show, before meeting the fiercely intelligent comedian and writer Desiree Burch. They talk about posters made up of penises, being a virgin dominatrix, the fucked up state of America, the laziness of racism, unwanted and wanted piano lessons, changing your appearance to gauge the reaction of the world, and why men send dick pics. But never to Rich. Plus the joy of beautiful destruction.
See Rich on tour; become a Dripster or badger and help us make more podcasts. Sign up for renewable energy and receive £50 credit and probably save money on your bills with Bulb
Published: 16th May 2018. Length: 67 minutes. Size: 92.5mb
Video
Next RHLSTP episodes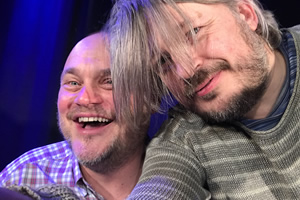 Date: 23rd May 2018 Length: 86 mins Size: 119mb
RHLSTP #180: Al Murray - Jimmy Tarbuck's Bad Day. Rich has witnessed the miracle of the birth of some lamb chops near his countryside home and will be contemplating human...
Richard Herring's Leicester Square Theatre Podcast - All Episodes