RHLSTP 178 - Sophie Willan

Richard Herring's Leicester Square Theatre Podcast: RHLSTP 178 - Sophie Willan
RHLSTP #178: Sophie Willan - How To Twerk. Richard is marvelling about a new interpretative dance based on All You Need Is Love but soon he will be dancing himself with brilliant new comedian and writer, Sophie Willan. They talk about how a trip to Ibiza with your techno-loving gran can ignite a love of theatre; what Rylan is like in real life; the therapeutic nature of stand-up (and whether it's healthy to work things through on stage); the intersection between madness and comedy; growing up in and out of care; thinking Richard Ashcroft is your dad; and why comedy and theatre are so middle class. Plus is it always best to be in a monogamous relationship; and how much is comedy like sex work? If you've seen Richard dancing, then not very much.
See Rich on tour; become a Dripster or badger and help us make more podcasts. Sign up for renewable energy and receive £50 credit and probably save money on your bills with Bulb
Published: 10th May 2018. Length: 62 minutes. Size: 76.9mb
Video
Next RHLSTP episodes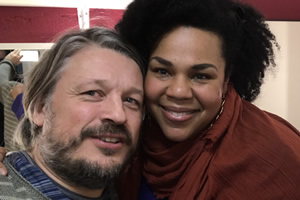 Date: 16th May 2018 Length: 67 mins Size: 92.5mb
RHLSTP #179: Desiree Burch - Do the Hokey Cokey. Rich muses on passports and the fruition of John Moloney's aged comedians TV show, before meeting the fiercely intelligent comedian and...
Richard Herring's Leicester Square Theatre Podcast - All Episodes