RHLSTP 174 - Peter Baynham

Richard Herring's Leicester Square Theatre Podcast: RHLSTP 174 - Peter Baynham
RHLSTP #174: Peter Baynham - I Am Delighted. Rich meets his audience. Can he resist being a dick? Spoiler Alert - of course not, but never mind because he's about to meet the man behind almost every great comedy star of the last 20 years, it's Too Gorgeous Peter 'Too Gorgeous' Baynham. The ex-flat mates discuss what happens when a 16 year-old Frank Spencer is put in charge of a super tanker; the most inappropriate way to greet the death of someone's loved one; who was right in the war over bread; Jean Valjean bumming people while looking like Peter Baynham; what it's like to meet Adam Sandler; how Peter nearly turned down Borat and somehow didn't turn down Arthur; what Chris Morris is like in real life (he's nice); the lost answerphone messages that could destroy careers; Lee & Herring's part in the creation of I'm Alan Partridge; running away from an audience; and the mad thoughts that plague the diseased minds of (at least these two) comedians.
See Rich on tour. Become a Dripster and monthly badger and help us make more podcasts. To get 8 free craft beers (you pay the postage) head to beer52.com/rhlstp. Sign up for renewable energy and receive £50 credit and probably save money on your bills with Bulb
Published: 12th April 2018. Length: 64 minutes. Size: 102mb
Video
Next RHLSTP episodes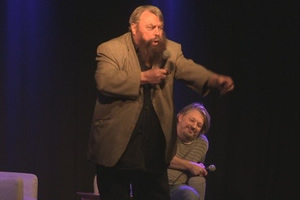 Date: 18th April 2018 Length: 76 mins Size: 104mb
RHLSTP #175: BRIAN BLESSED!!!! What Was The Question? It's finally come to pass. The podcasts can end now, because the whole point of starting them up has been achieved. Richard's...
Richard Herring's Leicester Square Theatre Podcast - All Episodes