RHLSTP 157 - Greg Jenner

Richard Herring's Leicester Square Theatre Podcast: RHLSTP 157 - Greg Jenner
RHLSTP #157: Greg Jenner - Portuguese Boy's Urine. Richard seems to think he's the new Frost:Nixon for some reason, but his audience banter suggests he has some way to go. But never mind, he's talking to historian and Horrible Histories expert Greg Jenner. There's something for everyone, as long as you're a fan of Viagra or Leonardo di Vinci. And if not then you can find out about the history of toilets and cantaloupes and penicillin and Papal orgies and William the Conqueror and church-based arson. Richard expounds his boring theory about Rasputin and Greg has some interesting theories about celebrity. And what if you time-travelled to see Jesus and found out you were Jesus. Wow. Is your mind blown? And what if the only thing to survive from our time was Ed Miliband's Millstone?
Buy Greg's awesome book on Amazon. Richard is on tour in 2018 - check out richardherring.com/gigs for all the confirmed dates. And if you're looking for great Christmas gifts for a comedy nerd head to gofasterstripe.com, and get the Christmas Emergency Questions book.
Published: 7th December 2017. Length: 63 minutes. Size: 116mb
Video
Next RHLSTP Episodes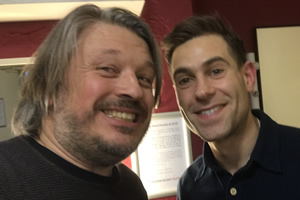 Date: 14th December 2017 Length: 71 mins Size: 98.2mb
RHLSTP #158: Simon Brodkin - Vagina Cash Machine. Richard has been belittled by a scaffolder, and is plotting his revenge. Perhaps he should send this week's guest after him, it's...
Richard Herring's Leicester Square Theatre Podcast - All Episodes