RHLSTP 156 - Ed Miliband and Geoff Lloyd

Richard Herring's Leicester Square Theatre Podcast: RHLSTP 156 - Ed Miliband and Geoff Lloyd
RHLSTP #156: Ed Miliband and Geoff Lloyd - Prime Minister of the Central African Republic. Richard's dog is at war with his eyes, but who cares. He has the Prime Minister from an alternate timeline on his podcast, plus a bloke who bought fags from Mrs Merton, it's the unlikely twosome of Ed Miliband and Geoff Lloyd. They discuss the pair's great new podcast Reasons To Be Cheerful, plus the Millstone, the sandwich and David Miliband's shoes. Is losing an election in anyway comparable to a triple loss on Pointless Celebrities? Can you be too clever for Win, Lose Or Draw? And is the political system of the UK screwed. There's some tough questions about Brexit (though to be fair Ed is asking most of them), and the difficulty of being a politician and being yourself. You might end up wishing you lived in the Miliverse. Or at least have some ideas for redecorating your kitchen? And will Richard ask the Emergency Questions you all want to hear answered? And will Ed answer?
Richard is on tour in 2018 - check out richardherring.com/gigs for all the confirmed dates.
And if you're looking for great Christmas gifts for a comedy nerd, including the Christmas Emergency Questions, head to gofasterstripe.com
Published: 29th November 2017. Length: 63 minutes. Size: 87.7mb
Video
Next RHLSTP Episodes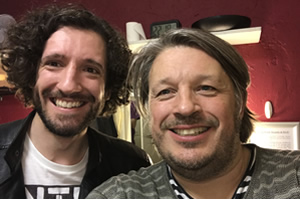 Date: 7th December 2017 Length: 63 mins Size: 116mb
RHLSTP #157: Greg Jenner - Portuguese Boy's Urine. Richard seems to think he's the new Frost:Nixon for some reason, but his audience banter suggests he has some way to go....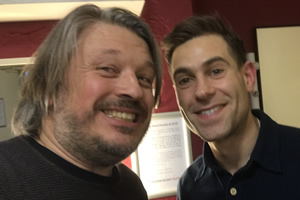 Date: 14th December 2017 Length: 71 mins Size: 98.2mb
RHLSTP #158: Simon Brodkin - Vagina Cash Machine. Richard has been belittled by a scaffolder, and is plotting his revenge. Perhaps he should send this week's guest after him, it's...
Richard Herring's Leicester Square Theatre Podcast - All Episodes