RHLSTP 153 - Rachel Parris

Richard Herring's Leicester Square Theatre Podcast: RHLSTP 153 - Rachel Parris
RHLSTP #153: Rachel Parris - Oh Jesus I Have Promised. Rich is confused and amazed by horses and apparently alone in being troubled by the lyrics to the new Stereophonics song, but he has a more skilled musician, improviser and ex-Christian rocker on hand to dig him out of his exhausted new-parent hole, it's Rachel Parris. They chat about obscure advertising jingles, how to improvise entire Jane Austen stories, the excitement of sitting on a 'celebrity's' toilet, usurping elderly organists, emailing the Samaritans, who's who (or anyone) in Game Of Thrones, poo wrangling and funky hymns.
Check out Parris and Austentatious tour dates and her YouTube channel
Buy the Emergency Questions book and download the FREE Emergency Questions app: Apple, Android and Alexa
Published: 8th November 2017. Length: 72 minutes. Size: 98.7mb
Video
Next RHLSTP Episodes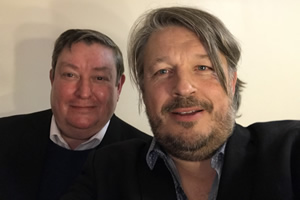 Date: 16th November 2017 Length: 63 mins Size: 87.1mb
RHLSTP #154: John Moloney - Why Hast Thou Forsaken Me? Richard freewheels about the poor quality of the suit he has had to wear as his nice ones no longer...
Richard Herring's Leicester Square Theatre Podcast - All Episodes