RHLSTP 145 - Julian Clary

Richard Herring's Leicester Square Theatre Podcast: RHLSTP 145 - Julian Clary
RHLSTP #145: Julian Clary - Fist of Fun. Richard is still bugging last week's audience about Lego Batman - it's amazing they keep coming back. His guest is Gillian Pieface, or as she is sometimes known, Julian Clary. They chat about how the Universe lets you know it's time for a break, psychic teeth, burning pianos, perverted monks, the inability to escape innuendo, living next door to hyenas, having a head full of skin, the Tracey family and Aquamarina, Piers Morgan, cocaines, Brian Blessed, Jimmy Greaves, Mike Smith, acting, panto, the continent of the incontinent and disappointing ways to celebrate big birthdays.
Buy your own Emergency Questions book and see Richard's tour dates If you'd like to donate to the Kickstarter campaign go to gofasterstripe.com/kickstarter
Published: 13th September 2017. Length: 59 minutes. Size: 107mb
Video
Next RHLSTP Episodes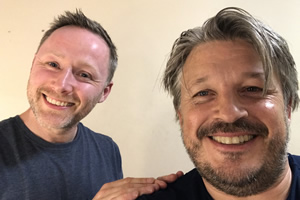 Date: 22nd September 2017 Length: 69 mins Size: 96.1mb
RHLSTP #146: Limmy - Monopoly Penguin. Rich is on the cusp of a couple of massive life changes, but he won't let ageing and moving get in the way of...
Richard Herring's Leicester Square Theatre Podcast - All Episodes