RHLSTP 135 - Paul Merton

Richard Herring's Leicester Square Theatre Podcast: RHLSTP 135 - Paul Merton
RHLSTP #135: Paul Merton - Waiting For Crawford. It's back for an eleventh series - who keeps commissioning this? - and Richard's new emergency questions are coming true as he's fresh from irking a postman. His guest is someone who he used to only be able to speak to in drunken awe at early 1990s BBC Radio Light Entertainment parties, Paul Merton. They discuss their similarly comedy-nerdy teenage years, the early days of the alternative comedy circuit where Alexei Sayle's stream of swearing might be followed by flying fish or slowly melting ice. Can Paul remember the very first routine that helped him on the road to stardom (and partially define his persona)? - you bet a fortnight's holiday in Benidorm he can, and it's magical! Find out how close he came to death 30 years ago after breaking his leg and how anti-malarial drugs almost broke his brain.
I heartily recommend his funny and moving autobiography, Only When I Laugh
And if you're in book buying mood why not help us fund these podcasts by purchasing our new Emergency Questions book
Published: 14th June 2017. Length: 70 minutes. Size: 96.3mb
Video
Next RHLSTP Episodes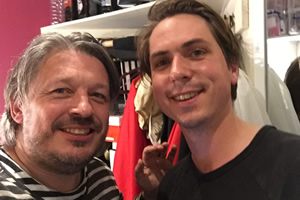 Date: 21st June 2017 Length: 71 mins Size: 97.7mb
RHLSTP #136: Joe Thomas - Pasta-based diet. Richard is excited about becoming a father for the second time, but not to witnessing the birth. His guest is, like him, a...
Richard Herring's Leicester Square Theatre Podcast - All Episodes