Episode 9

Richard Herring: Lord of the Dance Settee: Episode 9
Lord of the Dance Settee #9: You Should Have a Pregnancy Test. The madness and packed houses of March are over and April sees a slight dip in numbers and in energy. Richard has to deal with a dodgy microphone in Bath and lampoons the Marquis of Bath's attempts to create art. He enjoys a combined Christmas and Easter with his folks in Cheddar (that's Phoebe as a reindeer in the pic), before celebrating his third wedding anniversary in a slightly spooky empty restaurant, then he's back on the road to the exciting locations of Andover and Newbury, before jetting over to Ireland. He sounds quite down in the backstage bits, but it's a tough part of the tour to get through and hopefully he was all tits and teeth on stage. You can find out about his remaining tour dates at richardherring.com and book tickets to see his DVD record via www.thebloomsbury.com If you want to take part in the RHLSTP kickstarter then head to kickstarter.com
Published: 30th April 2015. Length: 43 minutes. Size: 77.8mb
Next LOTDS episodes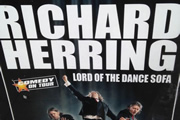 Date: 11th May 2015 Length: 51 mins Size: 92.7mb
Lord of the Dance Sofa #10: The tour grinds onwards and Richard is messing around more and saying things that he shouldn't about his ex-girlfriend and Cliff Richard (different stories)....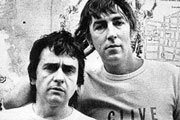 Date: 21st May 2015 Length: 43 mins Size: 79.6mb
LOTDS #11: Not Suitable For Minors? - The podcast takes us through the Lord of the Dance Settee gigs in late April and early May at Harlow, Bristol, Monmouth and...